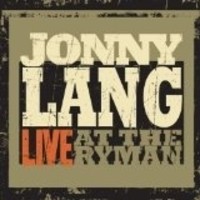 Recorded at one of his shows at Nashville's Historic Ryman Theatre, this release gives a good summary of Jonny's career.   Jonny is accompanied by Jim Anton on bass/vocals, Barry Alexander on drums, Jason Eskridge on vocals/percussion, Sonny Thompson on guitar/vocals, and Tommy Barbarella on keys.   Always a master of hitting the licks in synch with his vocals, the addition of keyboards earlier on only helped to expand his musical horizons.   Always a killer guitarist and vocalist since his early teens, Jonny has taken his blues, rock, soul, and gospel influences to heart.   Jonny and Joe Bonamassa are the major players out there that continue to expand the blues into other avenues via the triple threat of their playing, singing, and writing.  
The disc includes many of the gospel-influenced songs from Jonny's Grammy winning Best Gospel Album Turn Around.   The title song is included as are One Person At A Time, Bump In The Road, and Thankful.   Lending his voice to soulful gospel fits in perfectly in the genre.   His signature songs Red Light, the heart felt ballad Breakin' Me, and the gritty Lie To Me are included, and give testament to Jonny's meaningful blending of blues and soul.   The background vocals and keyboard insertions are spot on, and add to the intensity of the deliverance of the material.  
If you're a fan of blues, rock, soul, gospel, or just down and dirty great guitar and pipes, you'll want to listen to this CD.   I saw Jonny during the release of his first album, and most recently on the Experience Hendrix tour.   JL still delivers each and every song like he's a newcomer auditioning for a major gig.   What else can I say?  
By R.M. Engelman
[Rating: 4/5]