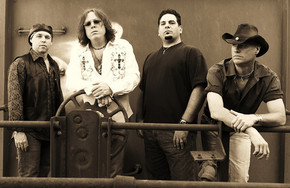 It is finally Friday and the weekend is upon us. My next guest is the perfect band to have playing when you get things going. Coming out of New England is The Bonesmen. These guys are straight up rockers and they do not pretend to be anything else. I have not put their new album 'Deuce' down since I got it. If you do not believe me just grab an MP3 of 'Morning Noon" the boys are offering. The grill is at 500 degrees and The Bonesmen are rocking!
Stoli: Where are we talking from today and what is up for tonight?
 
The Bonesmen: We're hanging out in the lounge at Sea Level Studios in CT.
Stoli: You guys take rock music to the essence on 'Deuce.' Was that your intention and what defines real rock for you guys?
 
The Bonesmen: Thanks. Yes it was our intention take rock to its essence. Real rock to us is simple songs with hooks and melodies that stay with you all day long
 
Stoli: How did you guys come together and was your musical vision for the band mainly similar to start?
 
The Bonesmen: Yes the vision was similar. Frank (singer) had the blue print for a band with a timeless sound and everybody else brought something to the table
 
Stoli: I am a straight up Bud Light with a shot of whiskey guy. What kind of spirits can be found at The Bonesmen recording session or live show?
 
The Bonesmen: Whatever you got….Are you buying? !!!
The Bonesmen "Morning Noon" MP3:
SKOPE IT HERE!
 
Stoli: My favorite song on 'Deuce' is "Morning Noon Or Night." Who is that song directed to, please explain?
 
The Bonesmen: It's a "Sex , Drugs and Rock n Roll " song. Insert your favorite pastime.
 
Stoli: Are you guys friends outside the band or is it strictly a music relationship?
 
The Bonesmen: We've run in the same circles forever and it just happened
 
Stoli: The news is pretty bleak with oil spills, layoffs, natural disasters, etc. How can music help relieve the stress even if for four minutes?
 
The Bonesmen: A good song can help you escape the big bad world, even if it is for only four minutes, but we can do it in three!!!!
 
Stoli: Are you guys in music for fame/fortune or love/passion or both?
The Bonesmen: All of the above.
 
Stoli: Who are some musicians that are still relevant today that inspire you to create music?
 
The Bonesmen: Did you hear the new Tom Petty !!!! OMG!!!
 
Stoli: What are some differences and similarities musically & lyrically between 'Skin and Bones' and 'Deuce'?
 
The Bonesmen: "Skin and Bones" is more stripped down and "Deuce" is a little more rocking.
 
Stoli: You guys are New England-based, like Skope is! What are some venues fans can see you play in New England and what does this region mean to you?
 
The Bonesmen: We play all over. You can find us in the local gin joint or at bigger venues with other national acts. New England is home and it's always fun to play in your own backyard. Check our website for dates
 
Stoli: What is coming up for The Bonesmen and where are you guys on line?
 
The Bonesmen: Promoting our second record "Deuce" (Available at cdbaby.com and on iTunes) and playing shows for the rest of 2010. You can find us on line at www.thebonesmen.com and Facebook.