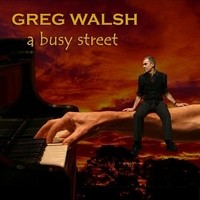 Are you ready for a big spoonful of rock/blues/soul mixed together in a bowl of well-polished music?   I hope so because that is exactly what you are getting with Greg Walsh's new record, A Busy Street.   Besides the core sound of rock, soul & blues heard here, I also picked up on elements of jazz, pop and classical.   Just like Neapolitan ice cream, there is bound to be a flavor here that everyone can agree on.   Get your fill of Greg Walsh as you savor all the diverse tastes that will melt in your ears.  
Walsh is a singer/songwriter/pianist from Australia who is looking to spread his music from down under to up on top of the music world.   Greg additionally took on the role of producer for the new record while also handling the string arrangement and art work.   All music and lyrics were written by Walsh on A Busy Street, which makes this man one multi-talented artist.   In addition to Greg's shining efforts, there are some terrific musicians backing Walsh here: David Kleynjans on drums, Tim Reid on bass guitar, Ross Calia on guitar/engineering, Aaron Barnden on violin, Winnie Huang on viola, Bonnie smart on cello and Corrina Jane on backing vocals.   The mixture of players and all of the various instruments really added a rich & full texture toward the whole project.   The musicianship & instrumentation is extremely well done here as you get a very professional-sounding studio recording.   Layers upon layers of classy tunes are displayed here with precision and with finesse.  
I was a big fan of the rockin' bluesy, jazzy soul sound that Walsh and his team were makin' here.   Overall, you are getting a pleasant aroma of wonderful melodies that are hitting you from all directions.   You are sure to get some enjoyment out of listening to this record whether you like it or not.   I do appreciate what Greg Walsh has done here to make A Busy Street not sound so bad after all.
One point I would make and that is that Greg's voice & singing approach I would call an acquired taste.   Some may dig the vocal performance and others may not but that's okay because that's what makes this world go round.   I personally liked Walsh's singing style but I wasn't completely convinced after hearing all 12 tracks.   I may have to take another listen to really fully grasp where Greg is taking these songs vocally.   Other than that, bang-up job on this new record and a fine performance overall.   For more on this Australian-based artist and his new release, SKOPE out www.greg-walsh.com.   Coming soon to A Busy Street near you!
By Jimmy Rae (jrae@skopemag.com)
[Rating: 3.5/5]