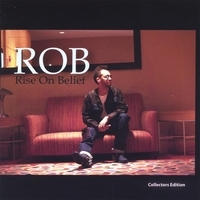 Rise On Belief (ROB) is ready to take the music world by storm with his hot debut album.   This NYC artist mixes it up with some classic rock and hard rock grooves that will get you pumped up from start to finish.   You will also hear elements of soul & funk that comes across as a solid effort & listen.
This brand new record actually debuted in the top 20 on the Independent Music Charts and the single "Freedom" debuted at 41 on the top 50 singles independent music charts.   The track "Freedom" is actually a Jimi Hendrix song that ROB covered as the opening number on the CD.   I would say that ROB did the classic song & artist major justice as he and his bandmates just went all out here.   Some of ROB's other musical influences include: Rolling Stones, Bon Jovi, Living Colour, Lenny Kravitz and Red Hot Chili Peppers.   ROB's wide range of musical tastes adds up to the BIG & DIVERSE sound that this disc displays.  
I have to mention that there are some amazing musicians backing up the lead singer here that will not go unnoticed.   Two aspects really stood out to me and that would be the hard rock guitar solos & riffs along with ROB's power-punch vocals.   I just loved the overall rockin' flavor/feel that is being played and I can't seem to get enough of it.   With more rock than you can handle, it's ironic that the title track actually exhibits more of a mellow approach.   ROB & company decided to take it down a level on "Rise On Belief" leaving behind their rock goodness but just for a second.   This may shock a listener to hear a completely different change of pace ¾ through the album but this did not surprise me at all.   Reason being is because I get ROB and what he's trying to do with his music, which is not to associate any titles with this artist.   Keep it fresh 'n' eclectic always is what ROB is all about, so no other category needed.  
ROB is on his way with this new record and I see a promising future ahead for this rocked out singer/performer.   ROB is ready to take a bite out of the Big Apple & beyond, so get up off your seats and Rise On Belief!     For more info, SKOPE out www.robriseonbelief.com.  
By Jimmy Rae (jrae@skopemag.com)
[Rating: 4/5]