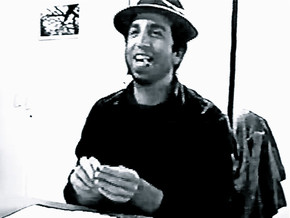 Are you ready for the man…the myth of eccentricity they call SteveShot?   If so, brace yourself because he, his image and his music are a hell of a lot to consume all at once.   You have to take in this whimsical artist one note and one word at a time, so you can really hear every single shred of unpredictability.   SteveShot is the alter-ego of a guy named Steven Rothenberg from San Francisco, California and he is ready to unleash his super powers for all of you concerned citizens out there.  
Steve has been writing songs and playing guitar for almost 25 years now yet he is a new-born pup when it comes to the business aspect of it all.   The San Fran musician is ready to learn more about the biz as Mr. Shot takes a stab at music stardom.   The BigShot is attempting to take over the world by storm with his unorthodox charm.  
Steveshot "Adieu" MP3:
Rothenberg makes experimental music for an unpredictable land full of uncertainty.   Steven is both complex and playful in nature while also exhibiting a bit of a serious side.   Just as his music includes a diverse mix of styles, the same is incorporated into Steve's own life.   Steven Rothenberg is a man of mystery and one that does not take too kindly to guidelines or boundaries.   Originality is SteveShot's middle name and taking bold chances is his game.  
One also can't deny the fact that Steve has a sarcastically funny wit about him that blends in perfectly with his distinctively different personality.   One such example occurred during an interview I had with Mr. Rothenberg when I asked him if his experimental, fun & care-free rock style just happened by chance one day and he responded with: "Yes, I woke up one morning not too long ago and there was a big bowl of fun right next to my bed.   I crammed my foot in it and the rest is history."   Gotta love it and when I suggested that Steve could save stuck-up people from their uptight ways, he responded by saying "I gladly volunteer and pledge from this moment on to stick my humorous bone up any stuffy, uptight person.   Especially if that person is an attractive woman."   The SteveShot saga steams ahead with another wacky & wild story regarding the craziest thing he's ever done; wait till you get a load of this!   "I drove my van with my very good but now deceased friend Karl Bell through the middle of a soccer game once many years ago.   His reaction was the best part.   Hi Karl."   As far as other crazy & zany instances in the life & times of SteveShot he says, "I'm afraid those stories are unavailable to the general public at the moment and are generally unfit for human consumption.   But look for the 'director's cut' to come out sometime in the very foreseeable and very……….distant future".   After hearing all of this, you know right away that this is one unique, creative and imaginative individual.
[youtube yzmXpvO1lHk nolink]
To think at one point Steve could barely walk, talk, or eat due to an illness and now he's taking aim and breaking barriers.   How about that for a happy ending!   Just as a life brings you constant surprises, Steve Rothenberg will offer you the same exact thing in abundance.   I say why not take a chance and get lost in the dust with SteveShot.   What have you got to lose?   Now…the moment we've all been waiting for…drum roll please…What exactly is going on in this man's head especially during a live performance?   Answer: "Hopefully nothing, which comes pretty naturally for me.   I'm pretty dense & still have trouble crossing the street by myself.   I need a nurse.   Actually, this is one of the highest states to achieve when playing music, or anything else for that matter; when the song and the music begin to play themselves and it becomes effortless and you're just kinda there guiding it a bit……..and ya don't have to push or strain or struggle-you can just be.   Unfortunately this doesn't happen in music or in life, as often as I'd like".   So there you have it as you get a glimpse into the mind & thoughts of Mr. Steven Rothenberg aka SteveShot.    
The man of many faces is pushing hard and pleads to "anyone out there with a spare million bucks who wants to donate it to me & my music, contact me immediately.   I will give you a receipt".   Coming off an album in 2009 titled Up From The Inside that featured his talented band RUM and a new record in the works due out this year, Steve Rothenberg is on his way.   For more info on this wildly interesting fellow from the Bay Area, SKOPE out www.steveshot.com.   Dig a little deeper into the mindset of SteveShot and you just may find some common & uncommon sense that will test your knowledge of understanding/misunderstanding. Either be lost & oblivious or get lost & free yourself on the road to SteveShot Way; the choice is yours.  
**The End**
By Jimmy Rae (jrae@skopemag.com)