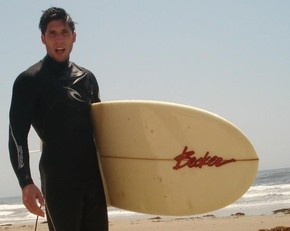 The first day of summer is here, and we wanted to have a guest on that reflects that summer feel! Coming out of Santa Barbara, CA is Jaret Campisi. Jaret has a new EP out 'We Come and Go' and it is a reflection of how talented he is. As you know I like to let the music speak for itself and that is why Jaret is offering the MP3 to "Staring Up." Do yourself a favor and start the week off with Jaret Campisi!
Stoli: Where are we talking from today and are you playing live tonight?
Jaret Campisi: I am sitting on an oversized couch in a little house just down from the mission in Santa Barbara.   Its 70 degrees outside and I'll probably head to the beach after this interview.
I'm not playing live tonight but next week we have two shows including Santa Barbara's Earth Day Festival.
 
Stoli: With the spring & summer here are you planning on hitting the road and touring?
Jaret Campisi: As of now I have a bunch of shows in and around Santa Barbara and I'll be spending time in the studio.   Looks like it's going to be a great summer, but I won't be hitting the road hard just yet.
 
Stoli: How has living in beautiful Santa Barbara helped shape your style of music?
Jaret Campisi: It's funny because I grew up in Pennsylvania and that's where my style was established.   I would always dread the winters because I hate cold weather and so I would write songs dreaming of being in a place where the winters were warm. Being in Santa Barbara just kind of reinforces my style.   I remember the first day I arrived in SB I felt like I was returning home from a long vacation.   So it's provided me with a certain amount of comfort, which has allowed me to embrace my style and just run with it.
Jaret Campisi "Staring Up" MP3:
Stoli: Please offer some insight into some of your favorite venues & spots to play & hear live music in Santa Barbara?
Jaret Campisi: My favorite club to hear and play music is Soho in Santa Barbara.   There are a great variety of people who come through. One of my favorite shows I've seen was Zach Gill; he's a great performer and very inspiring.   Soho has a great atmosphere, the people are sweet and I always seem to put on a fun show there.
 
Stoli: Your EP, 'We Come & Go' is excellent. Who did you work with on that and where did you do most of the recording?
Jaret Campisi: I recorded my EP in a local studio in Santa Barbara called Playback Recording Studio.   It really is a world-class facility.   Every room has its own theme and it's a dream to record there.   Tucker Bodine owns and runs the studio and he did all the engineering and then we mixed and produced the album together.   Two of my good friends, and Berklee musicians, Adam Stehr and Tom Mitchell came in to back me up on the album.   "Tasty Tom" as I call him, laid down all the bass for the tracks, while Adam put down all the drums and lead guitar.  
I really wanted the EP to have a live sound to it so we tracked all the bass and drums together and ended up finishing all the music for the EP in one weekend.   I wanted the songs to stand out and taking this approach helped us capture the right energy and mood, which comes across on the EP.  
 
Stoli: How supportive have your family & friends been towards your musical ambitions?
Jaret Campisi: I've always considered myself lucky because my parents have been nothing but supportive of everything I've wanted to do in my life.   They were the type of parents that encouraged me to pursue my dreams and live life with no regrets. That mentality has really stuck with me and I think that's what life is all about.   My friends have always been behind me 100% percent as well.   They are the ones I bounce song ideas off of and are the first to tell me when something is great or when it's terrible.    
 
Stoli: I really like your song, "Falling Into Place." Please explain what happened in life to inspire that song?
Jaret Campisi: I went to Penn State on a scholarship for Track and Field, so studying and running took up a lot of my time.   Playing guitar and writing songs was an outlet I could not have lived without during those years and for a while I was secretly waiting for school to be over so I could pursue music as a career.   After four long years, I grabbed my guitar and hit the road, but was met by some hostility from friends and even people I barely knew.  
It's funny because as supportive as my parents are, there are always other people who look down on pursuing music as a career.   It's the type of person who asks what you do for a living and when you tell them, they smirk or ask when you're going to get a real job like everyone else.   It was conversations like these that inspired the song.   Forget about what you've been told to do or how you're supposed to live your life. It's the notion that if you just follow your heart, things will "Fall Into Place."  
 
Stoli: You are on all the cool music sites. What have you found to be most effective in making new fans online?
Jaret Campisi: First of all, I must say sometimes it seems like I spend more time online on all kinds of music sites then actually playing my guitar.   Since I came to that conclusion, I've really tried to cut back on the amount of online social sites I use.   Basically, its come down to Facebook and Myspace.   But I'd still say most of the friends I make on those sites come from playing live shows.   I find myself using Facebook as kind of like a mailing list.   Instead of having people put down their emails at shows, I just get names and stay in touch on Facebook.
 
Stoli: Will California be the first state to legalize marijuana and is that good or bad?
Jaret Campisi: I'd say for sure California will be the first state to legalize marijuana use.   But who knows when that will be.   I know they are voting on it soon but I doubt it will go through yet.   I've never seen a problem with people smoking weed and in general I wish we could live in a society where the government didn't have to tell us what we can and can't do.   I've always felt a lot of the things that are regulated by outside forces should be more in the hands of the parents. In general, I think there are bigger problems in the world than worrying about people smoking marijuana.
 
Stoli: What other musicians and genres do you enjoy that might surprise readers?
Jaret Campisi: I grew up listening to 80's hair bands in my mothers' car.   We would blast Poison, Def Leppard, Bon Jovi and sing a long at the top of our lungs.   Just thinking about it makes me laugh.   Luckily, I had an older brother who really was the reason I started playing guitar.   He had a guitar, and like any little brother, I had to do everything my big brother did.   He was always looking for music that wasn't mainstream and I ended up listening to a lot of jam bands because of that.   Bands like Phish, Moe, Grateful Dead, Widespread Panic, String Cheese Incident, etc.  
Lately I've become very interested in the electric guitar.   I've been listening to Jimi Hendrix, Stevie Ray Vaughan, Jimmy Page, and Eric Clapton.
 
Stoli: What is coming up for Jaret Campisi that we can all look for?
Jaret Campisi: I've been in the studio a lot recently working on new stuff and pulling out some old songs that I never got a chance to work with.   I wouldn't say a full-length album is out of the question this year and I seem to be meeting just the right people at just the right time for that to happen.
We are also going to be filming for a TV show next month called "Santa Barbara Back Beat," on Cox cable, so that should be fun.
And I recently picked up a hot rod deluxe tube amp with a Fender Stratocaster that I can't seem to put down.   So you might be hearing some songs on the electric guitar soon.