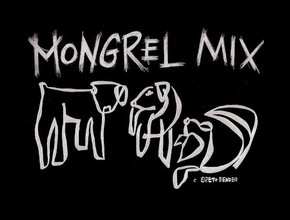 A very Happy Father's Day edition of Skoped Out. The sun is shining, the weekend is here, so lets turn the music up. My next guests are some eccentric, talented, and seasoned musicians that when together call themselves, Mongrel Mix. Coming out of Philadelphia, PA this band merges Blues, Rock, Latin, Jazz, and Funk with Afro-Cuban rhythms. Once they start to play you have no choice but to let the music take you. Join us as we talk with Ed WAgner about everything Mongrel Mix!
Stoli: Where are we talking from today and are you guys playing live tonight?
Ed: We practice at one of two studios – Today we are in Barry's recording studio Fulcrum Audio – Heading up to Uncle Mike's in New York tonight.
Stoli: How did you guys come up with the name, Mongrel Mix?
Ed: The name came out of a print interview where Barry was asked what the music sounded like – "An American mongrel mix of different styles." It is a testament to the diversity of the band.
Stoli: How did you four musicians link up and how long have you been playing together?
Ed: We met Juju through African storyteller Irma Hammond who Barry was producing – she saw Juju   play at a John Coltrane festival and set up a meeting. They clicked right away. Ted and I had worked with Barry on music production over the years and got drafted into the project soon after.
Stoli: How many times a week do you get together and rehearse and/or create new music?
Ed: We legitimately practice two times a week, and usually end up seeing each other some other days to talk about world domination and fine wine.   When we practice it is an ongoing writing, arranging and scoring process working from the lyrics that Barry writes.   The music is like church – I don't know how you can really be religious and just go on sunday.   Not that I would recommend it.
Mongrel Mix "In The Erotic" MP3:
Stoli: I hear various influences and genres mixed so well in your music. Was that planned or did it just happen like that?
Ed: The Latin sound is actually the outgrowth of all our other interests – rock and roll, R&B and roots influences. We never directly set out to get that Latin feel in any of the songs.
Stoli: How do you guys balance family & personal life while still spending time playing in the band?
Ed: We only try to alienate one person at a time.   Actually all our families support what we're doing – so it is a real validation. Or they are too frightened of us to object.
Stoli: When you all started playing music was it for fame & fortune or was it for the love, how about now?
Ed: All of the above. It starts out like a marriage – you say "don't worry honey we can live on love".   Then one day you wake up and realize that you need two things to live: love and a job. We are working this up from the street level – unfortunately there are no trust fund babies in the group.
Stoli: I really like "Images of a Saint." What is that song about and what inspired it?
Ed: Walking the fine line between faith and certainty – every religion has relics or some other form of reliquary in place to substantiate proof in something ultimately unprovable. Today the crucible for all our beliefs is pop culture.     If want to spread a belief today the first thing you need is marketing.
Stoli: Barry Preston is the Writer, arranger, lead guitarist, lead vocalist, and producer. Does the band run like a democracy or do you all get a say in the musical direction?
Ed: The band is at least as much of a democracy as the United States. The musicians aren't being challenged if they aren't providing artistic input – otherwise it is just narcissistic nonsense.
Stoli: Alot of bands suffer from inner turmoil and personal issues. How do you guys keep the peace and on the same page?
Ed: We go to a clinic where we are put under heavy sedation twice a week.   You have to make large allowances for the diverse lifestyles in the band. We don't let any other addictions get in the way of our main addiction – playing the music.
Stoli: You guys are based out of Philadelphia, PA. What are some of your favorite venues to play in Philly?
Ed: So far we've had a good time and good reception at every Philly venue we've played – but we have an easier time getting shows outside of Philly like the Mercury Lounge.
Stoli: What can readers expect when they go see Mongrel Mix live?
Ed: Fun and emotionally intense performances. Dense grooves. A full bladder. A very unique crowd.   Total mayhem – you can not be held responsible for your actions afterwards.   Isn't that what it's all about?
Stoli: What is coming up for you guys and where can readers get more music from you?
Ed: In the immediate future we are playing July 7 at World Cafe Live in Philadelphia, PA. Our website www.mongrelmix.com is updated frequently and the album is available on cdbaby.com.