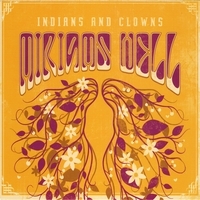 Get ready for some bluesy soul rock that will quench your thirst for worthwhile music.   In a day and age where unfortunately a lot of CRAP dominates the major music markets, it's refreshing to hear an indie rock band really shine through and own it.   Miriams Well is a musical duo made up of Mir German on lead vocals and Mark Bowden as guitarist/producer.   Both members are co-writers on Indians And Clowns and they even had some assistance from renowned singer/songwriter Lee Garrett.   Garrett helped out on three tracks for Mir and Mark and you may have heard of this song he helped Stevie Wonder out with back in the day called "Signed, Sealed, Delivered I'm Yours".   This new debut album by Miriams Well is a joint collaboration between three very talented musicians as they make magic in the studio.
The band is coming out of Portland, Oregon and one radio host in the area even went so far as to say "Miriams Well is one of the most exciting bands to come out of Portland in a long time."   I can't wait to find out if this 'dynamic duo' lives up to the dramatic hype and the answer to that is hell yes!   German & Bowden prove to be a perfect combo as they mix together like spaghetti & meatballs.   The two Portland-based artists prove to be a perfect match musically as one compliments the other nicely.   Mark brings to the table his love for late 60s/early 70s rock blended in with Mir's soulful roots and there is the premise for Miriams Well's Indians And Clowns.  
This record has such a cool, overall style that meshes together classic rock with some soulful, bluesy & even folky roots music.   Bowden's producing skills are second to none on this album plus not to mention some impressive guitar playing to go with that.   And then there is Mir German who just spills out all of her feelings & emotions as a top-notch singer.   Her passionate drive from a vocal standpoint is incredible as you hear this woman not just singing to you but speaking to you personally.   A perfect quote from Mir German sums up this sentiment perfectly: "We love taking listeners on a ride and the goal is to make them feel that we truly breathe our music and believe every word I sing."  
I'm definitely feelin' their songs as they got me hook, line & sinker with their honest approach to music making.   It rocks and it makes sense–finally!!   Miriams Well is the real deal as they make a point with this new record.   For more on this talented duo and their brand new release Indians And Clowns, SKOPE out www.miriamswellmusic.com.      
By Jimmy Rae (jrae@skopemag.com)
[Rating: 4.5/5]