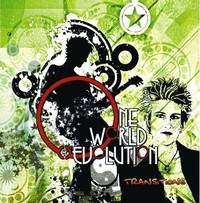 Are you ready for a green…red, white & blue revolution?   Well, Austin, Texas-based singer/songwriter Astrum Lux Lucis sure hopes so.   Astrum is the lead singer and rhythm guitarist for the group One World (R)evolution and their now project is fittingly called Transitions.   One World (R)evolution is attempting to save this world one note at a time but only with your help.  
The new CD is composed primarily of remastered versions of previously released songs from Astrum's solo material.   Besides working with the band on upcoming shows, she is also currently performing acoustic sets as a solo artist.   Obviously, Lux Lucis is a multi-talented musician, so it makes sense that she got her start as a drummer for San Francisco-based punk band Private Outrage.   It further adds credibility as to why there is a hard rock/edgy presence on certain tracks of the new record.  
The album opens up with the anthem "Get Your Green On" where Astrum is stressing to everyone about going green to help save this planet.   Lucis is referred to as "The Green Vegan Rawker" and for good reason.   Her beliefs, as a vegan, are sound and her message is solid as she brings awareness to people all around the globe.   This particular track contains a catchy, rockin' hook that is loaded with hard rock guitar riffs.   One World (R)evolution urges us to "go green" in hopes that a "green revolution" will occur.
What I loved about this record is how the pace is changed up constantly from fast to slow to medium speed at the drop of a hat.   The smooth transitioning between songs really made for an enjoyable listening experience.   There were also some excellent guitar riffs on lead & rhythm guitar that stood out throughout the recordings.   I can't say enough about Astrum's vocal performance that was simply a pleasure to hear.   Her wonderful-sounding voice captured so many feelings & emotions that were in turn poured into the ears of many listeners.   The Austin singer/songwriter has a very personal & intimate approach at the mic that comes across as 100% real & sincere.   Astrum Lux Lucis is not just singing to you here; she is laying everything that she has to offer out on the table for you to decipher.   Her powerful yet sensitive singing approach goes hand-in-hand with her deeply-rooted lyrics.   The performer sings from the heart ALWAYS but it is important that she reaches & touches YOUR hearts.   Like she says on the album, "open your mind and open your hearts because we've got to make a brand new start."   One World (R)evolution ends the record in brilliant fashion on "Goodbye" by giving you simple, direct & raw sentiments.   Astrum clearly states here that "We have a voice and we have a choice, but if we don't make a change and rearrange then say goodbye."   You can't get anymore blunt or brutally honest than that!   In the beginning, you can "Get Your Green On" to give hope or by the end your luck runs out and you unfortunately have to say "Goodbye".  
In the end, this group has a purpose for this planet earth and that is to save it before it is too late.   The choice is OURS and we do have the power to make a change, but it's all in OUR hands.   WE can either sit back and watch the world fall apart around us or actually step up to the plate and do something about it.   I know what side Astrum Lux Lucis and One World (R)evolution are on…maybe WE should join them?   So…What's it gonna be???   For more on this rock group with pop & country elements and their new release, Transitions, SKOPE out www.oneworldrevolution.us.  
By Jimmy Rae (jrae@skopemag.com)
[Rating: 4.5/5]