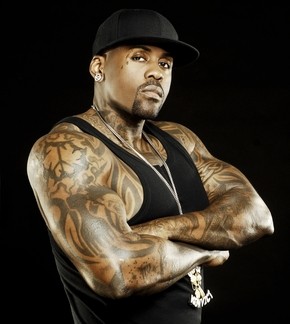 You would think a built, tattooed, and statuesque 6'2" cat from the streets of Memphis would be just another hip hop artist. Well, you can't quite judge this book by his cover, as Eddie "Gypsy" Stokes is quite the opposite.                  
"I'm the shocker…I'm the shock value," Gypsy explains. "I tell people [that] people are gonna think what they're gonna think. It doesn't bother me. I look at it as normal."      
Well, the shocker is — Gypsy can sing…and I don't mean just sing, he can SANG. Truth be told, the boy can blow, and not only can he sing, but he also produces, plays the piano and guitar. Growing up, Gypsy says his mother used to always play soul music records, such as Marvin Gaye and Prince, which enabled him to truly have an ear for music.      
"I always started producing, [but] wanted to do something outside of what musicians do," he says. "I play all types of music, kind of like the musician part is what took it to the alternative side. It always was outside of what was normal. To me, it sounds normal, but to everyone else, it's different."                        
Like being different ever stopped Gypsy. No, no, no! Gypsy may have grown up in the projects and learned life lessons in the streets, but he's also got his book smarts, too (he's a Berklee College of Music grad).                      
"We grew up in the projects in Memphis and moved into a residential area which was worse than the projects," Gypsy adds.
"We were living in a house [where] Mom was still getting project money."                          
As Gypsy's natural music ability grew, so did his experience. Before being signed onto Akon's Konvict Muzik label, Gypsy worked as a keyboard player with Speech, (of Arrested Development fame) and Society of Soul (Organized Noize members, Big Rube and Roni). With writing as his forte, Gypsy moved on to write and produce for the likes of Kat Deluna, Rock City and India.Arie, just to name a few.                    
"I was doing music for love, and looking at music for making money, and going on tour and seeing people," Gypsy says of the music business. "A producer wanted me to get in the game production-wise. As far as singing, I've done it, but doing it as a demo record for sales. That's actually how I met Akon, and I sold demos, and he realized it was me singing."      
"I was dating an artist that was with Aftermath and Dre dropped," he adds. "Other labels went to sign her and listen to her, and when I left the room, she played a song I produced and sang on."                          
Soon after, a deal was in play and Gypsy joined the Konvict fam. Noted as "Akon's secret weapon", Gypsy has also been called "the future of R&B/Soul" by Akon himself. Gypsy calls his sound "Alternative Street Soul", which is "soul music over alternative street beats", and is a beautiful fusion of soul, R&B, pop, electro and alternative genres.      
"[They're] street songs, relationship songs, over alternative beats," Gypsy explains. "When people hear it, they automatically say it's something else."            
This is extremely evident in Gypsy's debut album, set to release in late summer or early fall. His first single, "On the Low", is a very smooth, groovy and catchy track, one that I've personally had on heavy rotation.                  
"A lot of people are in that situation," Gypsy explains of the song, which was inspired by women that he's met. "Girls walk up to me, and first thing they say is they got relationship problems. They looking for an 'on the low' situation, but I'm talking 'bout 99% of women that walk up to me are never single and are seeing somebody [but] are looking for that same situation. That's real life."                        
One of Gypsy's favorites is 'Slums', which is a depiction of his own life.        
"It's focused on getting out of the slums, the mental slums," he says. "A lot of people focus on the negative side of it. I focus on the positive side of it. I like 'Slums'."          
Though Akon appears on a few tracks, Gypsy writes and produces on his own, noting that he writes everything he sings and sings everything he writes. Even when collaborating with other artists, he'll write the verse or hook solely off the concept.              
"I think when it comes to music, for me, it's the song before anything else, before I believe in the beat, I write the song."                      
For more information on Gypsy Stokes, visit www.gypsystokes.com.
By: Erika Gradecki – nextjam359@hotmail.com