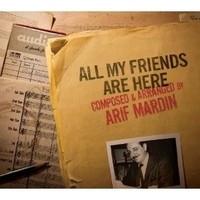 This was the last recording by the legendary multi-Grammy winning producer, who was originally known as a songwriter.   Arif Mardin, spent over 30 years with Atlantic Records, covering virtually every type of music that was thrown at him.   The album was co-produced by Arif's son Joe Mardin, and features original compositions.   Arif produced artists that became luminaries from every genre, including The Rascals, The Bee Gees (purposely exploiting Barry Gibb's famous falsetto), Bette Midler, Hall & Oates, Queen, Bowie, Diana Ross, etc.  
The album features a lot of torch song styled pieces, and starts with Diva Bette singing The Greatest Ears In Town. The release also features tributes sung by Carly Simon, Chaka Khan, Norah Jones, and Dr. John, to name but a few.  
All My Friends Are Here features Barry and Robin Gibb, Phil Collins, AWB, and a Randy Brecker trumpet solo.   So Many Nights is a ballad sung by Danny O' Keefe.   Calls A Soft Voice is a show tune styled piece sung by Carly Simon, done in a Peggy Lee talking/singing style.   Longing For You sung by Norah Jones, and Dual Blues sung by Amy Kohn are 40's type tunes, with the feel of a smoke filled bar and requisite piano and tuxedoed pianist.   Chez Twang's is performed by Dr. John, sounding his best in that familiar Tom Waits drawl.   Lonestar Blues is a smoky ballad sung by Katresse Barnes and features an acoustic solo by, yes, Willie Nelson.   Wistful is a short, nice flowing instrumental piano piece, with Arif on the keys.  
A strange assortment of material and artists to say the least.   If you are a fan of 40's style tunes, here's a fresh offering with a little funk, jazz, and the kitchen sink thrown in!  
By R.M. Engelman
[Rating: 3/3]