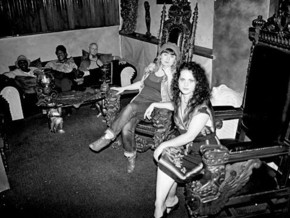 Wow, what a weekend! I am still recovering from the party at Skope Live! Saturday night in Boston. I could have used one more Sunday to rest but music calls so lets get to it. This week we are back with a female fronted band coming out of Cincinatti, OH with a sound that is contagious to the ear. Julia and Arianne are the core leaders but they work with a slew of musicians on their recently released self-titled EP. They also have a show at FB's on June 9th so if you are in Cincinatti, treat yourself. After listening to this EP I just had to have these ladies on here to talk all about Cincinnati, what iolite means, how they met, and much more!
Stoli: Where are we talking from today and how is your day going so far?
iolite: We are here in Cincinnati, Ohio and the day is going great! Spring is in the air!
 
Stoli: What was the inspiration behind the name, iolite?
 
iolite: Our friend Arynn suggested it after many months of trying to decide on a good name for the band. Iolite is a semi precious stone that is usually smoky purple but can also be green or brown. What made us really like the name though, is the metaphysical meaning of the stone.   Iolite is long believed to possess metaphysical healing abilities that help one open up to a Higher Self. Both of us really strive to write music that is healing and that will help people tap into their sub-conscious, a source of innate wisdom we all possess, and find balance through heart, mind and soul.
 
Stoli: I love your sounds and I hear many genres mixed in your music. Was that your intention starting out or did that just happen?
 
iolite: Well we didn't start out with the intention of creating a unique sound combining many genres, it just seems to be the style that comes out when we sit down to write. Our style is a little bit of all the genres we love, so it probably makes it easy to have this fusion. Something we are aware of is that there are many great elements in classic styles of music and that these elements can be used in a contemporary way that many generations can connect with. Also, I think both being Geminis, we couldn't possibly just focus on one genre! ;)
 
Stoli: How did Arianne and Julia meet and then decide to start up iolite?
 
iolite: We met at a party in the neighborhood of Clifton Heights by the UC campus. We had been good friends for about four years when one dreary January day we decided to sit down and have some fun with music. As we were working with our first song "Taking it Slow" the realization started to dawn on us that we really had something here. We both were taken by surprise and quite shocked at how good we sounded. We decided that night to keep working on music, seeing where it would take us. As time went on we started wanting to hear the music expressed with other instruments and a full band sound so iolite was born! It also really helped to have the full support of our families and friends.
 
Stoli: Would you say that your musical influences were similar when your first met?
 
iolite: Yes, Definitely! We both love jazz, blues, reggae, hip hop, old soul, funk, R&B, folk and alot of other styles.
 
Stoli: You worked with various musicians on this EP. How do you decide who you want to work with and how does working with various people help enhance your sound?
 
iolite: For potential band members we go out and listen to musicians and listen to their style of playing. We'll talk to them afterwards to feel out their vibe and personality and if they might be interested in playing with the band.   And sometime we go on referrals last minute
For the EP we went with people who were referenced to us because at the time we didn't have a solid band.   If they sounded good and we felt like they understood what we were looking for we went with it!
We really enjoy working with various musicians because most of the time that person will unearth some facet of your music that even you didn't know was or could be there. It's so exciting to hear the perfect line, rhythm or hook come bubbling out of their playing without them even being aware of how perfect it was at the moment. It's those happy accidents that can really make a song!
 
Stoli: What are some of your favorite venues to play in Cincinnati that cater to the jazz crowd?
 
iolite: In Cincinnati, if you cater strictly to the jazz crowd you won't have many opportunities to play out. And because we are not strictly jazz or traditional jazz some of the clubs will not book us. So instead we focus on venues that cater to all kinds of music and that are open to our style of music.   However, we do love playing at the Greenwich, a historical jazz/soul/R&B venue. We consider that out "home" venue.   Also, we enjoy playing at the Northside Tavern, a very popular variety venue in an up and coming artistic community in Cincinnati.
 
Stoli: How have you used the Internet to help reach new fans and what have you found to be most effective?
 
iolite: We use all the typical social networking sites like Facebook and Myspace. Through these sites we have been able to reach out to new fans by adding other bands that we like. Their fans then see our name or comments, they get curious, check us out and then… new friends and fans! This method seems to work well for us.
Both of us have found Sonic Bids and Reverb Nation to be very helpful. These sites really help us to connect with the bigger world of the music industry and gain some very valuable exposure and even career guidance.   The agency we are working with now Foley Entertainment Inc., was found through Sonic Bids.
 
Stoli: What is one thing about iolite that might surprise readers?
 
iolite: Oh, we are full of surprises! But, people might be surprised to know that we are both pranksters and love a good prank.
 
Stoli: I love the track "Rooms." What inspired you to write that song?
Arianne:   Thanks! The lyrics and melody line comes from a period of introspection learning how to create space within a problem and sitting with it and allowing it to breathe, and giving myself- self space to work through an emotional issue with a certain person at that time.
Julia: The chorus had just come to me out of the blue. I just kept thinking "ok, how the heck is this part going to tie into anything?" I reallly worked that song and format. Luckily Annie had no problem coming up with a melody line and then T-sly came up with the great guitar hook in the chorus. I love how that song turned out!
 
Stoli: Arianne has an inviting & elegant voice. How do you keep your vocals at 100%?
 
Arianne: Thank you! I make it a point to work out regularly, do yoga, eat healthy, take supplements and drink   lots and lots of water. It's hard to stay at %100 in the Miami Valley, allergy capital out the US. I struggle with sinus issues but I've learned techniques to help keep it under control.
iolite "Be Wise" MP3:
Stoli: What comes first the lyrics or the instrumentals?
 
iolite: Sometimes the music comes first, sometimes that lyrics come first. Julia will have a musical idea that she'll play for Annie or Annie will present a musical and lyrical idea to Julia. Every once in a magical moment a song will just come together at the same time. That is a rare and magical occurrence!   But when it does you know you have a good one!
 
Stoli: What is coming up for iolite and where can readers learn more?
 
iolite: Starting this summer we will be gong on min-tours throughout this part of the Midwest, hitting cities like Indianapolis, Columbus, Chicago, Pittsburg, and Louisville. We are also continuing work on our full-length album through the summer.
An exciting project we have planned is a collaboration between iolite and members of the Cincinnati Shakespeare Company. The idea is to create an original performance piece or play with us composing and playing the music for the piece while company members write the script, direct and act out the piece. The script is in the process of being written right now!
We are very excited to have a date in June playing in New York City and will be trying to gig at a few more places while we are there.
Also, in the near future our music will be licensed in Australia and Asia.   We are both really excited about the prospect of opportunities through these kinds of avenues.
 
Everyone can find out more about us through
Myspace: www.myspace.com/iolitemusic
SonicBids: www.sonicbids.com/iolite
Or, you can mail us at iolite@fuse.net and we'd be happy to hear from you. We can add you to our email list or just be sure to let you know when we're in the area. Our Facebook page is up and you can find us on ReverbNation also!