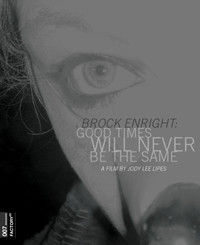 After garnering acclaim at SXSW, Hot Docs, and even winning a Special Jury Prize at the Sarasota Film Festival,   director Jody Lee Lipe's directorial debut, Brock Enright: Good Times Will Never Be the Same, will be released June 29th, on Factory 25.
"Art is anything you can get away with."
-Marshall McLuhan
Chronicling Brock Enright's preparations for his career defining exhibit at New York's Perry Rubinstein Gallery, the film documents his trip with his girlfriend, Kirsten Deirup,   to her family cabin in Mendocino, California. After they arrive, clashes start between Brock and Kristen's hard- blinking brother.   Not to be outdone, Kristin and Brock also get into spats.   Things then get worse.   Brock holds captive one of the gallery's staff, when they arrive to monitor his progress on the exhibit.
Masterfully shot, Brock Enright: Good Times Will Never Be the Same is one of the best looking documentaries I have ever seen. Brock's artwork (included on the DVD, as well as hand-drawn on each vinyl record) is raw and emotional.   His pieces are reminiscent of David Lynch and Marcel Duchamp, but with an even more generous measure of humour.
The limited edition package includes the DVD/ Blu-Ray of the film, and an experimental film, Blackgoat.   The bundle also features a vinyl LP of Brock's music called, Torben.   These albums sound like a clunky amalgam of a Smithsonian Folkways collection, Tom Waits playing a toy piano, and early, grainy jazz guitar.   As a musical curio, it's worth at least one listen.
Shawn Alexander Roy
 
Rating: 4.5/5]