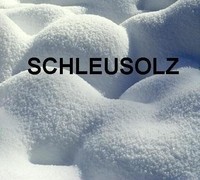 Coming off their 2009 debut Running Out Of Time, Schleusolz are back with another spaced-out record titled The Weinheim Experiment.   Frankfurt, Germany natives Worsel Strauss and Schani Wolf are the magicians behind the special Schleusolz sound.   Watch as they attempt to pull a rainbow of sounds/beats/styles out of their hats once again.   Step right up and witness a freaky musical carnival that can best be described as pure insanity.
The new album is wild, fun & crazy and the CD has that patented Schleusolz mojo that we've all become accustomed to by now.   Wacky, quirky, peculiar & out there all exemplify the qualities that Schleusolz still stand true to.   You are who you are and Schleusolz are in a league of their own with The Weinheim Experiment.   Bringing back their familiar stance that is coined "Retronica", which includes both retro and electronic music.   The duo mixes the two together splendidly while adding in their own special brands of 70s, dance, techno, rock, pop, progressive, jazz, disco and everything else in between!  
What I loved about their 2009 debut album was the fact that they created such imaginative sound effects and beats.   Schleusolz do not disappoint on the new record coming heavy with the audio sensations.   The only difference here is that Wolf & Strauss are experimenting with their own formula even more so by adding the chemicals of vocals & covers to the equation.   On track three, "The Numberer", Worsel & Schani are paying respect to their Brian Eno influence with a cover of the B-Side of Roxy Music's first single in 1972.   The song exhibits some rock beats & riffs blended together with the group's regular shenanigans.   On song two, "Sid Goes Dancing", you're walking into a 70s disco dance party complete with a horrifying, Skelator-like voice and classic-sounding video game effects.   Only Schleusolz could pull this number off according to their standards of music making.   On song four, "Perky Pat", you get a jazzy, upbeat number that offers a lot of pizzazz.   Next up is "Superboy", which is a cover version of a song from Nina Hagen's first record.   Here you receive a dose of some wild & mysterious vocals that will just make you say WOW!   Following along, we have "The Secret Acid Life", which fittingly enough is airy & mellow but while still remaining lively.   On this installment, you are entering the enchanting world of Schleusolz that is full of wonder & surprise.   I give to you Schleusolz in Wonderland on "The Secret Acid Life".   Track seven "Itai-Itai" has an Oriental influence while "The Shepherd's Dream" contains creepy, bone-chilling vocals perfect for Rob Zombie's next movie.   On track 10, "Biodegradable", you experience trippy singing to go along with a wacked-out performance that Worsel likes to refer to as "a pure classic love song, or maybe a pure classic hate song, I forget".   Next up on "Sell Your Soul", you're hearing an overload of futuristic sound effects galore with a Creepshow-like vocal that will just blow your mind.   "Who Do You Think You Are" gives you a cool dance groove Schleusolz style of course and then you witness a ghostly approach at the mic with a tribute to the Cat Stevens classic "Father and Son".
What can I say but Schleusolz did it again!   This musical pair displays so much uniqueness and creativeness on the new record that it's just ridiculous.   I have to say though that the core of Schleusolz is their innovative "Retronica" music with the beats & sounds effects as their forte.   By adding in quite a bit more Halloween-like vocal deliveries, this kind of took away from the magic that is Schleusolz for me personally.   I say if it ain't broke, then don't fix it.   Don't get me wrong, I love the fact that Strauss and Wolf added a new dimension to their arsenal because it proves that their originality factor is at an all-time high.   I just love the vintage Schleusolz music, so call me stubborn if you will; I don't care!   Overall, the German tag team gives you an eclectic set that is wildly interesting to say the least.   One song to the next is completely different as you try to wrap your mind & ears around The Weinheim Experiment.   For more on Schleusolz and their invigorating new release, SKOPE out www.myspace.com/schleusolz.  
By Jimmy Rae (jrae@skopemag.com)
[Rating: 3/5]