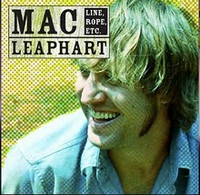 I have got to come clean… I am warming up to country music. Albeit slowly… yes, warming up. Now as a disclaimer that doesn't include all country. I still have no palate for kitschy twang or play on word, hokey lyrics. But the heartfelt, cut-me-I-bleed country that comes from some deep place within, I can certainly wrap my hands around that stuff. So going forward from here, I am about to gush in this review of Mac Leaphart's Line, Rope, Etc.
The ten tracks make for a raw, gritty album with each being a telling vignette into the mind of the singer/songwriter. The musicality is a vast collective of instrumentation and runs the musical gamut between country twang, demure ballads and honky stomps. "White Line Mercy" tells a country cautionary tale of "the lamentable good boy loves bad girl." Think a country-fried version of the Taming of the Shrew. The track builds from opening acoustic strums into harp honks, and bent note country electric guitar. Leaphart's gruff tenor is bolstered by Danielle Howle's accompaniment on the striking chorus: "Lord have mercy on a man whose woman loves cocaine." "Confederate Roses" is perhaps the clearest example of Leaphart's storytelling ability through lyrics. It's a hard luck track cast through his tenor rasp and tells the tale of a guilt-soaked protagonist and his dealing with lost love, betrayal and retribution. The full instrumentation of acoustic guitar, backing piano, mandolin and a string midsection makes this track haunt you long after the listen. Title track "Line, Rope, Etc." shows Leaphart Mexico beach gazing in contemplation. The instrumentation is made up of intermittent jangle guitar strums and whiskey-tainted words of self-inflection. A fitting closer to the album, it is simple to the point of poignancy.
Line, Rope, Etc. is one of those albums where the whole is not more than the sum of the parts. Each facet and piece of instrumentation is chosen for good reason and its placement is deliberate and purpose serving. Through the ten tracks, you get a snapshot of peaks and valleys, high points and hard luck and simply spun yarns that reach out and take hold of the listener. This guy may just single-handedly save country music.  
By: Chris West
[Rating: 4/5]