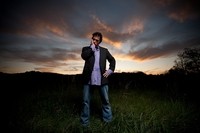 Inspired by the after effects of the first World Trade Center bombing in 1993, Bob Pressner gives you his own dose of reality.   This singer/songwriter now based in Florida tries to make sense of this crazy, unbalanced world.   Honor Among Thieves is Pressner's answer to it all as he hopes to smooth matters over on his new album.
Pressner worked as a commodities trader at the WTC and prior to the '93 bombing Bob was just another musician with a dream.   That dream would soon become a reality for Pressner as this life-changing event would turn BP into a bona fide artist.   A multi-talented & multi-dimensional singer/songwriter is born!
The CD includes the expertise of multi-Grammy nominated platinum selling producer and songwriter David Grow.   Grow has had the pleasure of working with some top-notch music artists such as:   Jim Brickman, Collin Raye, Michael W. Smith, Michael Bolton, Carly Simon, Linda Eder, Dobie Gray, Richie Havens and Chicago's Jimmy Pankow.   All of these impressive talents working with David Grow but check out what he had to say about Bob Pressner: "He is one of the most artistic souls I've ever met and Bob deserves success beyond his wildest imagination".   I think it is safe to say that Bob P is already in good company.  
Right away from the start on "Afterglow Master", you sense a natural ability being displayed along with a powerful presence both musically & vocally.   Right from the beginning, you get the feeling that this guy could definitely stand out in a crowd of honorary citizens & thieves.   On the title track, you get a very cool-to-the-touch sound with high energy and southern-sounding guitar riffs.   Track three, "Angels In The Wind", fittingly enough is tamed & reserved with a more softer/lighter approach.   Next up, "Bleeding Me Dry", the drums stand out to me as being the driving force here to the beat of a solid, rockin' joint with nice guitar moments.   On "Twisting In Twilight", you hear Bob lyrically on cue as you really feel the words being sung here.   Pressner finishes on a high note with "Independence Day" as he goes out with a bang!   In the end, the fireworks that make up Bob Pressner's music are lighting up this entire disc with a diverse array of colorful styles.
On this album, you're getting a wonderful mix of songs from a genuine artist.   You can sense the realness in this man's voice as he sings from deep inside the soul.   Bob Pressner is truly shining as a high-quality singer/songwriter on this new project.   The meaning behind the title of the record, Honor Among Thieves, simply means that we accept the good with the bad as a people in this world.   Nobody is perfect and the message here is to just follow your heart because that's the true answer to ALL.   So…now you see that we can have Honor Among Thieves.   For more on Bob Pressner and his latest release, SKOPE out www.robertpressner.com.  
By Jimmy Rae (jrae@skopemag.com)
[Rating: 4.5/5]