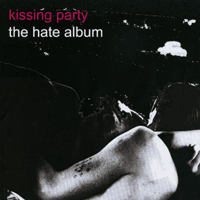 This isn't your everyday Kissing Party; this is a group of Denver musicians that gives you their Hate Album.   Love 'em or hate 'em, The Kissing Party will definitely get your attention.   Coming off their previous release, Rediscover Lovers, from two years ago, this band is ready to set the bar high NOW.  
TKP is made up of five talented artists: Dierdre Sage on vocals, Gregg Dolan on vocals & guitar, Joe Hansen on guitar, Lee Evans on bass and Shane Reid on drums.   The overall presence that this band exhibits is overwhelmingly impressive.   The chemistry is evident and the musicianship is apparent, so let's get ready to rock and roll.
What you get from this album is a jumpy pop/rock sound with punk & alternative influences.   The music speaks for itself because each song is quick and to the point.   The Kissing Party is not messing around here as they move along at an emphatic pace.   Each track is done in such a speedy fashion that will get you all pumped up and ready to go, go, go!   It is time to join the The Kissing Party now and get your blood racing with The Hate Album.
I simply loved the dynamics between Dierdre and Gregg's vocal styles.   Both Sage & Dolan sing in completely different manners, but they blend it all together to make it work nicely.   This vocal aspect is one of the reasons why the music is so damn catchy and appealing.   Without question, you will be hooked once you hear them.
The guitars are on point, the drums are slamming and the bass is kicking as The Kissing Party offer up a ridiculous amount of energy.   This is not a game and this not a party, this band is the real deal.   My only concern was that the music was performed in such a way that it was hard to follow the real substance behind the lyrics.   The tracks moved along so quickly that it was difficult to focus on the words at hand.   Honestly I didn't care about this because I was majorly digging the style and sound.   I was definitely hooked once I pushed play on my CD player and The Kissing Party never let up on the gas.   These Denver natives did not disappoint as they went full steam ahead on The Hate Album.   For more information or to find out more about The Kissing Party and their new release, SKOPE out www.myspace.com/thekissingparty.   I look for this band to be big on the music scene of today, so keep your eyes peeled and place TKP on your listening radar.
By Jimmy Rae (jrae@skopemag.com)
[Rating: 4/5]