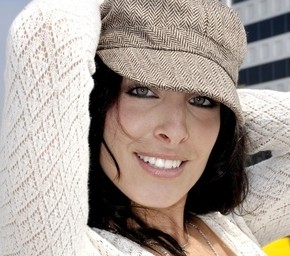 Is the weekend already over? I am so glad that we are featuring an artist that I know will get us dancing and shaking our head because I need to get moving. Coming out of Hollywood, CA is a young woman that can do it all from making beats to dancing to rhyming. I caught wind of Jezda when I saw her video for "Booties R Shakin." The energy and ambition was so obvious I had to have her on. Join us this week as we chat with Jezda about staying fit, her album 'Booties R Shakin,' brushing off haters, and so much more!
Stoli: Where are we talking from today and whats on the agenda for the day?
Jezda: Hey Stoli, I'm reaching out to you from Hollywood, CA.   I'm drinking my morning coffee as we speak and later I'll be recording a new song.  
Stoli: You recenlty released a new video, "Booties R Shakin." When did you come up with that song & where did you film the video?
Jezda: I came up with the song "BOOTIES R SHAKIN" towards the end of last summer.   I listened to about 30 different beats and that's the one that jumped out at me.   From there, I took it home and started writing.   It only took me a few days to write.   The video was shot by Alan Pineda at a studio near Santa Monica.   It took one day, and most of the footage we ended up using was at the very end of the day.   We were all exhausted but somehow it all came together.
Stoli: What is the meaning behind your name, Jezda?
Jezda: The meaning behind my name is this….My full name (Julia Zenko) was being used by a latin singer, so I didn't want there to be any confusion.   She was established and I was brand new, so I decided to change my name.   I started researching different Czech/Polish folklore and I discovered JEZDA.   First of all, she is known to be a good witch.   However, if she senses that you have any bad intentions, she will turn on you.     She is the protector of the fountain of youth and she rides on a broom made of human hair, so she can erase her tracks .   I read it and said….."That's perfect!"   From that point on, I became JEZDA.
Stoli: You are obvioulsy a super dancer. What came first the dancing or the rapping?
Jezda: I started dancing when I was about 6 and the rapping only began about 3 years ago.   I've always been a writer though, ever since I can remember.  
[youtube 1jYcxGXffxw nolink]
Stoli: Your press shots are hot & sexy. How do you keep yourself in such great shape and what is your workout regimen like?
Jezda: I really enjoy working out, so I try to mix it up a bit.   I love to go running, do weight training, yoga and pilates mostly.   I do one of those pretty much every day.  
Stoli: Your CD 'Booties R Shakin' is on CD Baby. How long were you writiing & recording that and who did you work with in regards to producers on the tracks?
Jezda: My song "BOOTIES R SHAKIN was done after "BOUNCE" and "SEX U UP".   Kenny McCloud produced the beat.     I took it home, chopped it up on my mac and then I laid down the vocals.   It didn't take long.   I loved the beat, so the writing for booties came really easy to me.     I did all the writing, recording and editing at my place, so all together it took about a week.
'Booties R Shakin' via CDBaby: www.cdbaby.com/cd/jezda2
Stoli: Who are some female emcees that you admired growing up and what did you learn from watching them?
Jezda: I grew up listening to Foxy Brown and Missy Elliott.   They were such strong women who really didn't care what others thought.   They did their thing and it was respected, original and amazing.   I strive to do the same.    
Stoli: Do you feel its fair how female artist are judged not on musical ability but on their looks as well?
Jezda: I think that it's fair and necessary.   I think that to make it in the music biz today, you have to have the look AND   the talent AND anything else you can throw in the mix to make yourself stand out.
Stoli: There are many con artists in the music biz. How do you know when someone is more into you than your music?
Jezda: I've dealt with this topic alot.   Like every day.   Unfortunately, the music business is saturated with people trying to take advantage and manipulate.   They tell you what you wanna hear, ask you out to discuss your career plans   and then go in for the kill.     If they are legit, they will see the dollar signs and it will be business as usual.   If the conversation starts to get too personal and the question   "So…..Do you have a boyfriend or husband?" comes up,   thats when I disappear:)
Stoli: What is something interesting abot you that most people do not know?  
Jezda: Most people don't know that I can be a total hermit.   I get started on a song, and then I don't wanna leave my studio until it's finished.   I get so engulfed in the process that   I just wanna keep making it better and   better.   I would much rather work on music than anything else.   It's addicting, and when the magic happens, it's the best feeling in the world.
Stoli: Whenever someone puts themself out there like you there are haters. How do you keep the haters from bothering you and keep it moving?
Jezda: The haters are always gonna be there.   I really try to brush it off and find the humor in it.   Everyone is entitled to their own opinion and I try to remember that. Ultimately, you have to let it go…otherwise it will destroy you.    
Stoli: You run an impressive independent operation. Are you looking for a record deal or do you have things under control?
Jezda: I'm definitely open to a record deal.   I've been doing everything on my own and I would love to take it to the next level.   I know the outcome would be amazing.
Stoli: What is coming up for Jezda and where can readers holla at you?
Jezda: I have a show coming up at The Key Club (in the Plush Lounge) on Friday April 16th.   We (me and my sexy female back-up dancers)   go on at 9:30 and I'll be doing alot of new songs for the first time.   Also, my radio campaign is taking place, so be sure to listen for "BOOTIES R SHAKIN" and request it NOW!!!! You can find me and my new music video "BOOTIES R SHAKIN"   at www.youtube.com/jezdamusic or at www.myspace.com/jezdamusic.   Check it out and let me know what you think. Enjoy:)