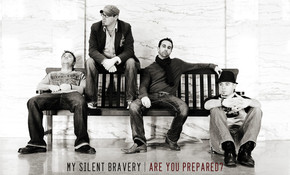 A major factor that can determine success and failure for a musician today is perseverance & hard work. You must be able to keep going through all the doubt & struggle. My next guest is a band that once was one band and today is something totally different. The band I am talking about is Worcester, MA based, My Silent Bravery. The boys are coming strong with a hit single, "Not Necessarily So" a debut album 'Are You Prepared,' and shows all over the US northeast. I will not be surprised when I hear My Silent Bravery on Top 40 radio soon!
Stoli: Where are we talking from today and when is your next live gig?
My Silent Bravery: Yo Stoli. Hope you have been well. Presently we are at home in the Wu — (Worcester, MA) awaiting our hometown CD Release show tonight! After tonight — we will be heading out to NYC on April 9 — for an in store Best Buy performance in Union Square followed by the legendary Bitter End in the village!
Stoli: How did it come up that you would switch from Matt Shwachman Band to My Silent Bravery?
My Silent Bravery: We had been debating a name change to a band name for the last year or so. While relentlessly gigging the last 18 months, we found the majority of the people that would come out and see us, would love the show and music, but had a hard time digesting my last name. With the new record, we wanted to attract as many people to the sound as possible, and for people to be able to find us easily on the internet.   We thought the new name would appeal to our existing fan base by keeping the MSB identity in tact, while also looking ahead to the future of what is to come.   The feedback on the change has been amazing.
"Not Necessarily So" MP3:
Stoli: What is the meaning behind calling the band, My Silent Bravery?
My Silent Bravery: The meaning to us stands for inner strength and perseverance.
Stoli: Are all the same members still in My Silent Bravery?
My Silent Bravery: All the same band members, Hugh on bass, Mike Fiore on guitar, and Dana Bonardi percussion.
Stoli: You just released your debut album and had a release party at Harper's Ferry in Allston, MA. How did that go and feel to play the new CD in a legendary venue?
My Silent Bravery: Show went great. We had a blast and sold it out! We had played Harpers before and always liked the venue. It also holds a special place for my bass player Hugh whom met his fiancé at the venue 7 years ago at a Maceo Parker gig.
Stoli: How has your sound evolved since you put out, 'Are You Prepared?'
My Silent Bravery: Are You Prepared? is a lot different than its predecessor, Uncharted Territory. It is way more upbeat and aggressive from a singer songwriter perspective.   We wanted something people could dance to at our shows. I also wanted to showcase some different styles, while keeping it in the same overall rock/pop/alternative camp.   While the old sound was more in the John Mayer/ Jason Mraz camp this one is in the One Republic meets Maroon 5.   We are really putting a big emphasis on keeping the dance floor moving at shows. We think the new material will help us accomplish this task.   Playing the new material with the band feels great as well. It's exciting to see how the new songs are already evolving live.    
Stoli: The new single for the album is "Not Necessarily So." What is the meaning behind that song and will there be a video as well?
My Silent Bravery: "Not Necessarily So" is a tune about soul searching. The song was actually originally called that. More specifically it's about getting what you need in life for growth. We often want something in life and when we get it, if we get it, we often find it's not what we thought it would be. However, when we reflect back on it, we often find it was what we needed at that point in time for our personal growth. BTW, the song is off to a great start at A/C radio. It was the number one "most added" song in the country on FMQB's A/C chart two weeks running!   (www.fmqb.com/ac.asp ) There most likely won't be a video for this song, but there is a video in the works for our second single!
Stoli: Matt Shwachman is not only a leader in the band but a successful business man which I admire. How does that experience & drive benefit the direction of the band?
My Silent Bravery: I'm relentless man. I keep trying to push us to the next level in all aspects of the music world and get as many opportunities as I can for the band. Sometimes though I need to stop and enjoy the moment a little more. As soon as one opportunity is booked, I am already on to the next.
Stoli: You guys are based in Worcester, MA but play all over the east coast. What are some of your favorite venues that you have played and what can readers expect from your live show?
My Silent Bravery: Some of our favorite venues played include The Mohegan Sun Wolf den in CT, The Chicken Box in Nantucket, The Bitter End in NYC, and after our CD Release Show I think Harper's is up there for us as well. I think that people can expect to come out to an MSB show and join the party. They can expect to be surrounded and warmly greeted by the greatest fans ever.
Stoli: I am fascinated by how people buy & consume media. How do you see fans of MSB buying music from you in 10 years from now?
My Silent Bravery: From their spaceships …
Stoli: Do you let the recession & tough economic state we are in dictate what you do for My Silent Bravery to succeed?
My Silent Bravery: I think we have to adjust like everyone else, but we don't let it dictate what we do. We like to keep a busy schedule and we try to work out an arrangement with the venues we play ahead of time something that works for both parties. It's always best to iron out any potential issues ahead of time so everyone knows what is expected. We have really good relationships with the majority of the clubs we play that we rarely have issues.
Stoli:   Many readers might be hearing about MSB for the first time here. What is something that they should know about you that most do not?
My Silent Bravery: The band is big fan of gummy sharks! If you bring some out to a show we will be your friends for life!
Stoli: What is coming up for My Silent Bravery and where can readers get the new album?
My Silent Bravery: MSB will continue to pound the pavement in New England and support the new record. We have a video in the works with some cool shows on board as well. We are doing our first concert cruise this summer with Ernie and the Automatics, which features Ernie Boch and much of the band Boston. Readers can pick up the record at I-tunes, Amazon, CD Baby, and preferably at a live show!
My Silent Bravery: Thanks Stoli!