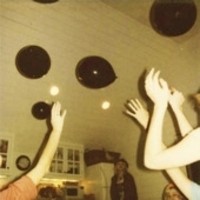 Sometimes, you can get a real feel for a certain group right off the bat.   That is exactly the case here with Italian Japanese and The Lush, Romantic Weirdness.   I can sense right away that this band has something special and that they will definitely be a smash hit within the music scene.   Italian Japanese seem to have a perfect band chemistry along with an overall sound that is heavily appealing.   So…what do you get when you blend together Italian & Japanese?   Answer: Diversity, originality, musicianship & artistry in all its shining glory.
This LA-based alternative rock band consists of five members: Allen Nichols on lead vocals & guitar, Chris McLaughlin on keys & guitar, Justin Greene on drums, Sean Rodriguez on guitar, keys & sound effects and Noah Willis on bass.   Allen & Chris are actually part of the original line-up and they are also the founders of Italian Japanese.   The meaning behind the title of this record actually signifies the blood, sweat and tears that went into making this album and making this music work on all angles.   After hearing The Lush, Romantic Weirdness in its entirety, I would say that these musicians have a lot to be proud of.  
The CD starts up with some distorted background noise on "Jeremiah" that gives off a cool acoustic guitar sound to go along with powerful & melodic vocals.   I was very impressed with Nichols' vocal performance here because he sang with such feeling & energy throughout the recording.   Lyrically, there was much to hear as well with many thought-provoking lyrics scattered amongst the 11 tracks.   Some ear-catching words that struck my attention were: "Make you crash into a photograph" on "Polaroid You", "Take out, take in the knife" and then the phrase "And she's feeling so strong and so bright" on the title track was intentionally emphasized to prove a point.   Turns out the purpose behind these highly focused words was geared toward having the courage to carry on when a relationship is over.   Besides the singing & lyrics, the drums, guitar and sound effects added a wonderful dynamic toward the whole picture that is The Lush, Romantic Weirdness.  
This group has such a cool vibe with a very catchy sound & rhythm.   Their upbeat moments mix in perfectly with the element of rock that comes through loud & clear.   Elements of pop are also detected as you're hearing music you can groove to and think to.   In the end, this whole record is full of moveable songs that provide strong meaning & purpose.   MTV Australia PUSH called this new album "the future of indie music" and I couldn't agree more!   Italian Japanese have already toured all over the U.S., Canada, U.K. and Europe while even having the pleasure of sharing the stage with such acts as: Foo Fighters, Jimmy Eat World, Queens of the Stone Age and Vampire Weekend.   Quick start for this talented bunch from Cali, but I feel you haven't seen nothing yet!   For more on Italian Japanese and their new release, The Lush, Romantic Weirdness, SKOPE out www.italianjapanese.com.  
By Jimmy Rae (jrae@skopemag.com)
[Rating: 4.5/5]