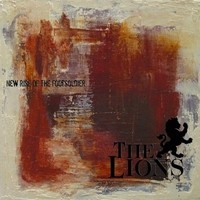 Get ready for an incredibly loud roar from The Lions.   Not real lions of course but a band of wild musicians from Calgary, Alberta Canda that call themselves The Lions.   This group plays with ferocious intensity with pure rock at the core of everything.   Give way to these new rock soldiers as they get ready to scratch, claw and fight their way to the top!
The Lions are: Chris Millar on lead vocals & guitar plus sole songwriter, Justin Luchinski on bass and Liz Demenko on drums.   They have two full length albums, two EP's and one live album to their name already.   The amazing part about all four of these projects is that they were all done within a time span of 1 year from 2008-2009.   This trio appears to have the sheer tenacity, determination and driving force to write, record & perform songs at a ridiculous pace.   Seems as though there is no stopping The Lions!
The very first thing that struck my interest right away was not the music itself but rather the disc inside the sleeve.   I noticed that the CD was made to look like an actual record, which I thought was really cool.   Talk about taking you back and giving you that retro feel right off the bat!   The actual record started off with a short instrumental called "Ghost Dancer" that left you with a feeling of mystery & suspense.   From the opening track, one listening would not know what to expect as we moved along to the march of New Rise of the FootSoldier.   What you get is a smooth transition into track two, "No Other Way", complete with a rocked out performance.   On song six, "The Jam", I'm hearing a bluesy rock approach at guitar and an all out jam session in full effect.   The next installment, "You're A Whiner!", has a trippy feel to it with psychedelic-like elements.   On the title track, "New Rise of the FootSoldier", you get some cool guitar moments and meaningful 'n' catchy lyrics such as: "Your situation's dire because you're playing with fire."   The message is that you're going to get burned in life if you're not careful.   So…BEWARE OF THE LIONS!!!   One of my favorite numbers on the album, "Invincible", actually turns out to be a song that took everything out of Chris Millar vocally.   Millar happened to throw his voice out for 2-3 days after this recording and he claims that he will not sing like this again.   I simply loved the raw energy that Chris is pouring out here as he sings at the top of his lungs.   You can feel that Chris is singing out of his comfort zone, which he assured me was exactly the case.   The end result worked though and worked well as you get a special type of vocal performance from Chris Millar.   And this just may be a one-time deal for Chris & The Lions on "Invincible", which makes this song even more appealing.   Add in some killer guitar playing with some power-packed drumming and solid bass lines and you have a sure fire hit.
The Lions are a REAL rock band that play REAL rock 'n' roll music with no fancy gimmicks.   This group definitely has an original vibe that comes across in a major way.   The Lions give you refreshing tunes that you can jam to and have fun with, which is what music should be all about.   This musical trio is rejuvenating the indie music scene with some good old rock 'n' roll fury.   The Lions are ready to pounce and ready to make some serious noise all over the country!   For more on this Canadian-based rock band and their new release, New Rise of the FootSoldier, SKOPE out www.thelions.ca.  
By Jimmy Rae (jrae@skopemag.com)
[Rating: 4/5]