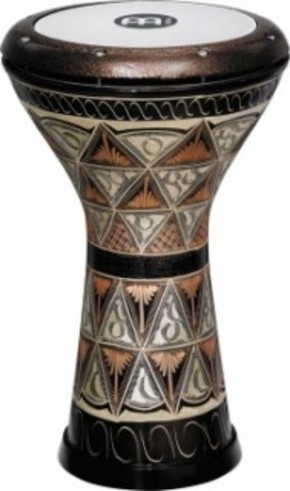 Hello, Music Up Close readers, we are finally back up and operating once more. The construction to our virtual club is finally finished, and I'm ready to get this place hopping again. And what a way to reopen our doors and show our wider focus than with a full slate of world music artists!
First up is an in-depth interview with Andy Milas, frontman for the band, Esthema. They have a new album out that you should get your hands on. Next, In Studio features that review and two more CD reviews of drastically different sounds-both are dynamite. And finally, I am having a music orgasm with what the SonicBids Lounge is hosting this month. We have ten spectacular artists from as far away as Brazil, looping through Hawaii, and then plunging down into the south and the eastern half of the US. One of these world artists is from Tennessee of all places. And who says we aren't a very diverse nation!
So, grab a drink from one of our kiosk bars in front of our Main Stage and bring it right in with you. And let's get up close with Esthema.
Main Stage
Andy Milas, Esthema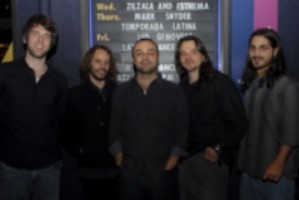 Last year, I had the privilege of interviewing Andy Milas, the frontman for the five-piece ethnic, prog rock-influenced jazz ensemble, Esthema. Blending traditional elements of Eastern European Balkan and Near/Middle Eastern music with Western jazz, prog rock, and Latin styles, the band is setting stages afire wherever they perform.
This isn't normal borrowing from a culture's music. The band members come by their experience with these different forms quite honestly. Andy Milas, who plays guitar, was born in the US but his parents came from Greece. Onur Dilisen (violin) was born and raised in Turkey. Bruno Esrubilsky (drums and percussion) hails from Brazil and Ignacio Long (bass) was born in Argentina. Tery Lemanis (oud and Bouzouki), like  Milas, is first generation Greek-American and his grandfather played oud.  He studied Greek music in Greece as part of the Berklee College of Music's exchange program.
All of the band members, except Milas and Onur, are either graduates of Berklee or are finishing up their degrees there. Onur graduated from the Boston Conservatory.
Esthema's first CD, Apart from the Rest (2007), was a flat-out showstopper. It contained jazz and rock elements as well as Latin Samba and Eastern Taxims and Kasilama, mixed with a lot of different modes, scales, and styles. Their newest, Hereness and Nowness of Things (2009), is equally interesting to the alert musical ear. It features jazz again but with exotic Eastern maqam and ciftetelli as well as Anatolian Zeybek dance forms. But Esthema music is much more than skilled technical attacks and intellectual fusion of forms. Listening to their work is like hearing and feeling the heartbeat of the planet.
Come here for yourself what Andy Milas has to say about his band and his music as we get up close and personal with Ethema.
Andy Milas: With the release of the second CD, we're definitely going to try to pump it up to more nationally and internationally–although we can't just pack up a van and start traveling across the country. But hopefully people will hear it, and then they'll spread the word.
Janie: Who is your principal songwriter?
Andy Milas: The basic skeleton for all of the music is mine. Then, of course, I bring a form to everybody and then we start playing it and playing it until we find arrangements. Everybody has a completely free voice to say whatever they will musically. At the end of the day, we come up with arrangements that everybody is happy with and everybody has made the songs their own. They are what they are.
Janie: There is a broad range of instruments on your last CD. There are a lot of tone qualities that you can bring to pieces. The jazz elements I heard were excellent. There definitely is some rock in there.
Andy Milas:   Sure there is. A lot of the rock elements are disguised because there are a lot of acoustic guitars. When people think of rock, they think of distorted guitar and heavier drums. Because I'm doing a lot of the right, I know that there are rock elements there. I could probably sit down with pieces and say this was influenced by this band or that band. Unfortunately, for most people the rock they've heard they really sometimes haven't caught onto some of the elements that has allowed whatever was in popular music. But a lot of prog rock that's been on over the years, going back to Kansas, even early Genesis. Of course, my biggest influence was Fates Warning, which they were like the forefathers of prog metal vs prog rock. They had absolutely beautiful elements of string sections, of course, the guitars, pianos, which people really wouldn't think of rock, but they definitely had all of that stuff going on. Thanks for hearing all that.
Janie: It has been just a wonderful trip through every piece–with only six cuts. But these aren't two-minute radio friendly pieces. Jam audiences are going to eat this up because of the fact that you tend to explore a musical idea. Instead of saying that you will crank out something that will end in three minutes.
Andy Milas:   (He chuckles)
Janie: It has to develop and go somewhere. You don't get lost in that either. You are able to bring it to an natural conclusion, which some new performers no matter how well trained can't grasp. There are some wonderful new technical players coming out of Berklee that are doing some great stuff but they get into the intricacies of what they are doing a lot, they get into their heads. It is real cerebral music. This is not. This is well executed. It is intricate and complex but it's got heart. It's got a soul running through it. I think part of that comes through the ethnic elements of it and the different kinds of modes that you're attempting here. And that's not easy…A lot of these technical bands could not do this.]
Andy Milas:   Thank you. Thank you very much.
Janie: I was reading your bio that you performed in some choral groups and choirs and did plays and musical theater. Would you ever think of incorporating lyrics with something that Esthema does?
Andy Milas:   That's been a question that many people have asked. My biggest issue with lyrics is that somehow all of a sudden you get placed into a genre. If the lyrics are too dark, then it's more like metal. I think some of our pieces have elements of metal. A lot of bands perform metal just like this without the distorted guitars. If it's too dark, it falls there. If I start putting in ethnic lyrics, it becomes ethnic music. If it's stories, then it becomes like Loreena McKinnett. Right now, I don't want to find that one crowd, I also don't want to be forced into that direction. By keeping it instrumental, it allows it just to kind of go into New Age, if people hear the New Age elements. We can go into jazz, into prog rock. We have seen it with the people who come to check us out. A lot of our audience is not much older, they are in their late 30s -40s. I am in my mid-30s. But they are people who have heard a lot of different styles of music and appreciate it. A lot of the younger kids see it, they think it's good. I don't want to say that they are awe-stricken because there are obviously a lot of players out there that are just as good as we are, if not better. It's just for them a cool sound but they kind of want to move back to what they were doing. Where older people who have been around, they seem to appreciate it and hang onto it a little bit better.
Janie: It's wanting to listen to more than bubble gum and growing up with from bubble gum.
Andy Milas: (He chuckles again.)
Janie: I think that in a way I do agree with you that instrumental music does allow the listener a lot more imaginative space than when you start putting in lyrics. That will draw away from the instrumentation a lot of times because you are listening to the words.
Andy Milas: Right
Janie: You don't want to be pigeon-holed. It's a good business strategy as well as a good creative move for you.
Andy Milas: Thank you.
Janie: You're bringing styles from all of your different exposures of music, whether it's ethnic music or stuff you listen to like you did. But you are putting that into a different context. You are discovering it anew and in different ways. So are your audiences.
Andy Milas: That is very well put. People definitely don't realize how similar all of the different musics are. There are so many similarities between the ethnic music which you enjoy. The bio that we've created is a little more broad when we say Eastern European Balkan music. It's great music. I was born here. My parents are from Greece. I did the whole Greek wedding band thing for well over 15 years. For me, it's great music, but the reason I was drawn to Greek music so much was because the second you started playing it, you are playing the same chord progressions that a lot of the metal bands are playing. You're played the same scales that the rock bands are playing. It's just played with different time signatures in the songs. Obviously, the purpose is different, but at the end of the day it's just entertaining–however one wishes to be entertained. The similarities are all there. And, of course, you can take all these ethnic scales and start thinking about them the way that you think about jazz harmony and theory, expanding it that way. It ends of being a lot of fun when you try to put all of the ideas together. It's an exploration on the next CD that we've done a little bit more….
Janie: What do you expect in the future? You have band members working on degrees. And some of these folks might get job offers, too, and that can always change the personnel over time. Are you hoping to continue to perform in the region while you can?
Andy Milas: Yes. We've all talked about it….Bruno, the drummer, has a couple of years left at Berklee, but he's still trying to make a living. Some people are full-time musicians. Others have regular jobs to play the bills and they do this. Obviously, everybody takes side gigs and does their own thing, whether it's ethnic jobs. Sometimes, I still fill in with Greek Bands. Ignacio, the bass player, plays a lot of South American music jazz. But the hope always will be that we can bring this to the next level and introduce the music to as many people as possible. Everybody realizes this. Everybody is willing to do it. If the opportunity   arises, everybody is willing to take it. Nobody is 17 and wants to jump in the van and start going across the country. Hopefully, if we approach it on the business side carefully and we actually target things, the right people will hear it and give us a chance if they like it.
In Studio
Esthema
Hereness and Nowness of Things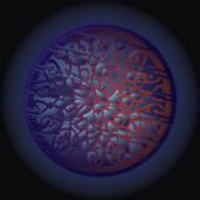 In spite of the curse on sophomore albums, Hereness and Nowness of Things is by far the best of the two albums Esthema has produced. All of the nine songs, except "Four Colors," which was written by Onur Dilisen, are composed by Andy Milas. Each track contains multiple layers of instrumental voices and moods, making the album not something you can put into the player and do something else while half hearing the tracks. There is just too much interesting stuff going on. The Middle Eastern and Eastern European confluence with American jazz is a smooth interweaving. It is impressive. From the first track, "Change of Season," you know that this isn't an ordinary album. You are instantly transported into other realms. "Eastern Dance," though very much an original tune, also has a few familiar ethnic lines woven through the piece. There are so many that this isn't a flaw of the work but one of the reasons why the track is so successful.
I was always impressed in the late 1980s by a New Age band called Shadowfax that emerged in the era of synthesizers. It offered more for the meditative ear than schmaltz, introducing complex world music themes. Then later I discover Umphrey's McGee when they released Local Band Does OK, where each track was a musical smorgasbord. These were bands well before Esthema's time who weren't even attempting what these musicians are nor did they have the broad musical range as the musicians of Esthema.
But it is clear that Hereness and Nowness of Things is just a glimpse of what these musicians can produce. Though I truly hope they will record a garage full of albums, these two recordings have already marked them as maestros of their instruments and as masters of world fusion like no one has ever done before. Every track on this album is an absolute delight and could be parsed for years by musician enthusiasts. I know that every time, I put this album into my player I will discover something new that will speak to me. That is because Esthema not only constructs and attacks their compositions with intelligence and technical skill, but they do it with soul and heart. That is something that cannot be taught. Very highly recommended!
Frank Vignola
100 Years of Django
Azica Records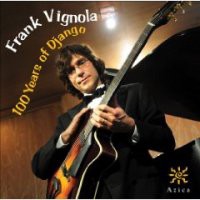 Frank Vignola literally grew up with a guitar in his hand. Starting lessons when he was five, barely able to get his hand around a guitar neck, Vignola also listented to jazz, rock, pop, and R&B. It was no surprise then that he would go on to become a popular sideman, recording and touring with Madonna, Ringo Starr, and Leon Redbone. He formed what has become the first Hot Club of France tribute band to Django Reinhardt in the late 1980s and paved the way for the many other Hot Club groups that followed. He signed with Concord Jazz in 1993 when he was 27. He later recorded for Telarc, Acoustic Disc, Hyena Records, Atlantic, Sony, and Warner Brothers Records. He's recorded with Donald Fagen, Queen Latifah, and Wynton Marsalis. His skill is such that he's written 18 guitar instruction books for Mel Bay Publications and recorded several CDROM educational products for Truefire.com.
Though Vignola is a guitar master, he isn't a diva. You could find him comfortable as Les Paul's guitar support or doing an off-the-cuff jam with David Grisman.
So his latest recording, 100 Years of Django, in honor of one of his musical influences, comes as long overdue. I was surprised when I got the CD that it held only ten songs. I am a great fan of Django Reinhardt and his gypsy jazz guitar. I had expected at least a two-CD set, if not more. After all with a title of 100 Years of Django, it was normal to expect more.
And then when I put in the CD and listened to the first track, I went, "What?" "Rhythm Futur" features the guitar far into the cut with the melody being carried by Julien Labro's accordion. I was disappointed. But finally Vignola stepped up and I heard what I was waiting for. The rest of the CD then is pure Django. Gary Mazzaroppi's double bass work on "Troublant Bolero" is exquisite and a lovely complement to Vignola's guitar. "Swing Gitane" and "Song D'Automne" are upbeat tunes. Vignola and Labro jammed around this tune, offering up their own flourishes. Once more Mazzaroppi is allowed to shine in a solo on "Song D'Automne."
"Diminishing Blackness" was a surprise because it has rock elements that I didn't expect from Django's jazz background.
Then there was "Mystery Pacific," one of Django's first recorded tunes that was more of a novelty because it resembles a train racing down the track, even in the accordion work.
"Douce Ambiance" was just a fine rendering, Labro's accordion once more carries the melody with touches by Mazzaroppi and Vignola. The album closes out with the be-bop tune "Swing 49," which is a tasty rendering with Vignola and Vinny Raniolo's rhythm guitar.
My absolute favorite cut on this album is "Tears," a moodily romantic piece that starts with a solo by Vignola without the need for accompaniment. He is joined by Raniolo's guitar, which just sustains Vignola's thoughtful noodling. Though "Nuages," the next to the last cut on the CD is considered Django's most famous tune, "Tears" is more familiar to me. But both cuts on this album are stunning.
I am greateful that Frank Vignola created this album. But it just wasn't enough for me. I would like to see him crank out one of these every few years. Django Reinhardt had a huge repertoire. And only someone of Vignola's caliber could do them justice.
Bigga Haitian
Sak Pase
Walkup Records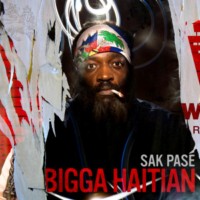 I first talked to Charles Dorismond, aka Bigga Haitian, in the summer of 2007. Laying claim as the first Haitian reggae singer to write and perform his own music, he was born in Born in Port au Prince surrounded by music. His father, Andre Dorismond sang for The Webert Sicot Group, an innovative band that created its own version of Kompa, Haitian dance music.
When his family moved to Brooklyn, NY, Bigga was dropped into the middle of a Jamaican neighborhood, exposing him to reggae, which had a profound impact on his own music. It wasn't long before Bigga started appearing with reggae dancehall legends such as Shabba Banks, Cocoa Tea, and Junior Reid. Later, he crossed into hip-hop, opening for Lil Kim and Jay-Z.
In 1992, Bigga released his debut album, I Am Back, which was mainly a disc of dancehall beats.   His second album, Bingh Man, didn't appear until 2002 after he had signed to Ruff Stuff Records. This album plunged deep into roots reggae, offering more message-driven lyrics that often drew on Bigga's Rastafarian spiritual foundations.
A single, "Gi Me Da Weed," in advance of his new album, Sak Pase, that was out in 2007 on Walkup Records, was getting monster downloads from iTunes, Rhapsody, and eMusic well before the album was released. It also received heavy airplay on reggae stations.
Unfortunately, it was considered more of a novelty song that appealed to a lot of swag smokers. Bigga defended that recording, saying people just weren't getting past the word "weed" in the title. "Weed is not something to get high on and bug out and act stupid," he said back then. "Weed to us Rasta people is a meditation. It's between us and the Almighty. Weed is a sacrament to us."
Bigga wrote that song in honor of his brother, an off-duty security cop, who was shot by a New York City undercover policeman looking for a marijuana dealer. "They shot him dead over weed," Bigga said. "I did that song for my brother to let people know that weed isn't a bad thing."
"Gi Me Da Weed" and other cuts on Bigga's new nine-track album, Sak Pase, are laced with more of the unexpected and lots of color from musicians who sat in on this album. Most of the cuts are closer to roots reggae, though there are some dancehall tunes like "London Massive," which features Yvad on lead vocals. But this is dancehall that isn't offensive to women or other groups.
One real surprise was Bigga's reggae version of the White Stripes' tune "My Doorbell." "I don't think in a million years anybody would ever pick a song like that to put in reggae music," Bigga said, but it was a suggestion by Walkup Records. There are two versions of that cut. The first features tenor saxophonist Craig Dreyer whose performed or recorded with Pete Francis, Warren Haynes, Joan Osborne, and even Keith Richards on the Grammy award winning Timeless album. The second version has a killer guitar solo by Mike "Angel" McLaughlin from the band Criss.
"Load the Chalice" features a sample from "Ke'M Pa Sote" by Boukman Eksperyans as well as guest vocals by Mecca aka Grimo, Bam, and Jimmy Two.
The label also brought in musicians to play throughout the record. Those included reggae saxophone great Cedric Brooks and members of the Ruff Stuff band who recorded with Robert Palmer and Burning Spear.
The first and last cuts are two different versions of the collaborative "I Am A Haitian." Bigga wrote the lyrics and   Brett Smith and Marc Lawrence wrote the music. The last one is an instrumental version that features reggae tenor saxophonist Jerry Johnson who played on Burning Spear's 2009 Grammy record, Jah Is Real.
Sak Pase is a wonderful foray into new roots reggae and dancehall. Give Bigga Haitian a listen.
SonicBids Lounge
Didn't I tell you that we had some terrific world music in the club tonight? But it isn't over yet. Now, come on over here to the bar and have Snake and his bartending wizards make your drinks. We have some exciting performers here in the lounge that I want you to get to know, and later we're feature three Latin acts on our lounge stage that will get your booty shaking like a tambourine
Snake, bring your hunky self over here. I see you've oiled your bald head again and those biceps with the Maori tats. I always thought it was a good choice when you did that. It honors your ancestors and it will never go out of fashion like a band tat or your girlfriend's name. Now, would you bring me an Ocean Blue and make sure you keep track of just how many I've had? You make them so smooth, I just don't feel them until I try to walk out of here. Send it over to the first table in the corner over there. I want our guests to meet these folks.
Gaura Vani & As Kindred Spirits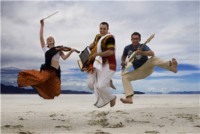 Gaura Vani, who plays harmonium and sings, is here with his band, As Kindred Spirits. Hailing from Washington DC, they have been stirring audiences from yoga studios to grassroots events to appearing on the Lollapalooza stage. They even participated in President Obama's Inauguration at Chant4Change. Their music combines traditional South Asian kirtans with some rock grooves, evoking a mesmerizing musicscape of chant and instrumentation. It's happy music for the soul and the feet. He's joined by the lovely Jahnavi Harrison who plays violin and adds background vocals, Ray Ippolito on guitar, Acyuta Gopi   who plays kartal and shares vocals and harmonium duties, Ananta Govinda who plays mridanga and tablas, and Janaki Priya who plays kartals and also does background vocals. They are currently supporting their new CD out last year called Ten Million Moons on the Mantralogy label.
Now at this huge booth is Outlaw Dervish.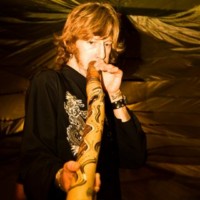 Taking a totally modern take on world music, Travis Wernet (vocals, didjeridu, hand drums) formed this band in Emeryville, CA, and blends electronic elements, trance dance, and spoken word with vocals and world instruments for a sensual musical journey. It's space funk world fusion. He's joined here tonight with Kevin Njikam (electric guitar and keys), Dan Yockey (bass and sinter), Jason Parmar (drums, HandSonic, and tables), Elan Rae (hand percussion), and Thea Izzi who does those exotic vocals. Travis Porter De Leon is also here. He sits in with them sometimes on drums and djembe. (Their drumwork, by the way, on the instrumental "No Illusions" is fantastic! The whole mix is incredible with didjeridu, bass, and keys.)…And those three lovelies at the end of round booth are bellydancers and fire dancers who often perform with the band. Thanks for joining us, ladies. I wish the fire marshal would have approved of you performing tonight but with the new construction, we just couldn't risk it. Perhaps we'll do an outdoor thing one night this summer and invite you all back.
Oh, Snake, I wondered what happened to my drink. You want to whisper something to me. (giggle) You used Pyrat Rum, the most expensive rum in the house? But you'll use house rum in the others because I won't remember them…(taps foot)…Are you looking for a raise or planning on getting sacked?…Now, don't you think a kiss on the check will make up for this. Hmmm. Why do I keep that hunk on my payroll? But he is the best bartender in the virtual universe and his is fine to look at….
Moving on, we have a big table here of solo artists. I'd like you all to meet Alan Brian Curtis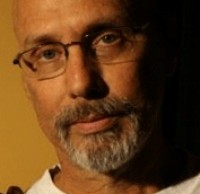 Alan comes to us from Tennessee, a state you would associate with world music. He combines Latin and World Beat rhythms offering up an Afro-Cuban-Puerto Rican-Carribean-Brazilian sound. It has the warmth of roots reggae with so much more. The guitar work is exceptional, but he also adds layers with synthesizer that would take a full orchestra to produce.   He told me that his approach was "to use the available technology to produce as natural and organic sounding finished song as possible." My favorite song is "Gracious," which is an inspiring island gospel tune with a full backup chorus. He told me he plans to expand into techno/hip hop/dance/house/club productions, but currently he's licensing a lot of his work.
Next to Alan is Brittni Paiva.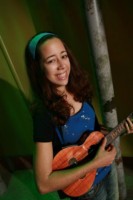 Alan, I think both of you have found a kindred spirit in the expertise you have with your instruments. Brittni is the premier female ukulele player in Hawaii. But her skill is nearly equal to Jake Shimabukuro. These two stars take the simple ukulele and elevate it to classical guitar standards. Jake has a few more years on her–she's just 21, but Brittni is already a seasoned pro. She handles classical works as well as jazz and a variety of ethnic modes including Spanish, Peruvian, and Eastern European, all with aplumb. Unlike Jake, though, she is also accomplished on bass, slack key guitar, piano, and drums. She self-produced her first CD, Brittni x 3, when she was CD and won numerous awards for it. She has since released three more albums. She excels not only in interpreting others' work but in crafting her own originals. She also is pursuing an online Master's Certificate Program through the Berklee College of Music….Brittni, I love your work.
Beside her is Odarka Stockert from Millburn NJ.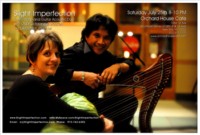 Odarka is a classically trained harpist who has taken her instrument and given it not only voice but permission to step out of its traditional roles as a classical instrument or as an ethnic one. She plays both standard Celtic harp but also an electric version. A singer/songwriter/composure, Odarka has been collaborating with guitarist and songwriter Redentor Jimenez. Their debut CD EP Secret Songs is stocked with an eclectic repertoire of not only Celtic modes but Ukrainian/Eastern European stylings. She also is a founding member of Glendalough's Muse, a Celtic flute and harp duo, as well as a member of Suenos del Alma, a Latin inspired harp and violin duo, and Slight Imperfection, an acoustic singer/songwriter duo. Odarka also possesses a lyrical singing voice.
Come with me and I'll introduce you to SONiA disappear fear from Baltimore.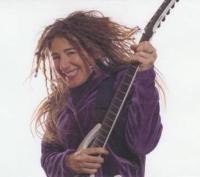 I know it's a very unusual name for really a fine performer. SONiA Rutstein handles lead vocals and also plays guitar, piano, and harmonica. She is supported by Laura Cerulli who does backup vocals and handles drums and percussion, Chris Sellman on bass, Howard Markman on guitar, Helen Hausman on violin, and Marc Lawrence on drums. Her CD Tango (2007) combines a slate of Americana original songs with others sung in Spanish, Hebrew, and Arabic and using Latin and Middle Eastern rhythms and instrumentation. It's an infectious sound. Her latest album Splash came out two years ago. We've all been waiting for a new one, but SONiA and her band have just been clocking the miles touring.
The next big table hosts two really fine Latin acts. La Pupuna is a six-piece Latin band from Belem, Brazil, with a sound that has some Afropop overtones.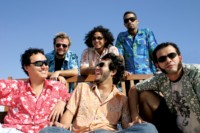 These guys are the best! Their music is just plain happy. It's designed to move your body and get you to forget about your troubles. And they have been so charming since they've been here in the SonicBids Lounge. Music students from the State of Para University, these guys mix rock, merengue, surf music, brega, and their regional Guitarrada style. As I said, what comes out is Latin based, heavily percussive, Afro pop. They also drift into some electronic sounds, but always come back to their roots.
I just love these guys. Their music makes me happy. They are Adriano Sousa (drums), Fabricio Jomar (bass), Diego Muralha (electric guitar), Luiz Felix (voice, electric guitar & percussion), Rodolfo Santana (keyboards), and Kleber PSB (percussion). They have two discs out, a self-titled EP they released in 2005 and their full-length album, All Right, Penoso!, that was out in 2008. These guys always bring a party.
http://www.myspace.com/lapupuna
Roberto, are you helping these guys with the language? I want to make sure Snake gives them what they want to drink. Roberto Obregon is a sexy Latin pop performer from Miami.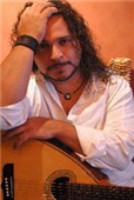 He's a singer/songwriter/guitarist who can offer a sensual croon in Spanish or English. He is also equally comfortable in jazz or bluesy soul.   His jazz ballad, "Little Friend," about the birth of his son is a tender musical moment. And "Last Time" is a heartbreaking soul tune with blues roots. Roberto's debut release, D' Aki Pal Cielo, has been generating great response. That album and his live performances are backed by a full-band, offering standard instrumentation as well as horns.
http://MySpace.com/RobertoObregon
Now, all of you, freshen your drinks and find seats because we are going to be in for a treats. Aurora & Zon del Barrio will be taking the SonidBids Lounge stage very soon.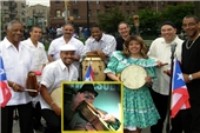 This seven-piece band from Harlem NY not only brings wonderfully fun, danceable music wherever they perform, but they also are preserving the musical traditions of the Afro- Caribbean dance styles of the streets where Latinos have lived, worked, and danced in Cuba, Puerto Rico, and the Dominican Republic that found its way to communities within the US. Blending salsa, plena, merengue, bomba, and boogalu with funk, hip-hop, and other modern musical styles that reflect the urban bicultural and bilingual life experience of the Latin community today. Band leader Aurora Flores, who is a Latin music historian, also writes original tunes to add to the cannon of music Zon del Barrio performs. The band is happy union of veteran performers such as musical director, David Fernandez, a multi-instrumentalist who knows everything there is about Latin musical arrangements, and young performers, including singer Hector "Papote" Jimenez, who has been able to capture the phrasing of some of the great Latino singers such as Benny More Ismael Rivera and Hector LaVoe.
Oh, Snake, you anticipate me. I was ready for a new drink. No Pyrat Rum this time, hmm? Well, I won't be losing money on this drink then…Why don't we step into the liquor locker behind the bar and discuss…bar pour strategy….Oh, you're all still here. Go get some seats before the crowd comes in for Aurora & Zon del Barrio. I'll send over some servers to take your orders. See you next month…Now, Snake, admit it. You want a raise. Do you want to trick out your Harley or are you into a loan shark? What are you grinning at? (giggles)……
Wriiten By: Janie Franz — jfranz@skopemag.com