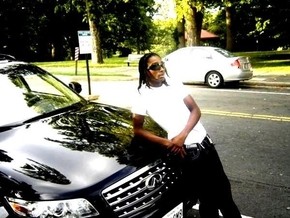 This week we are heading down to Baltimore, MD to meet up with an emcee whose resume & rap sheet are all legit. My guest this week is an emcee who is not only cool but he defines real. I caught wind of Young Fame after listening to his debut single "My Star" and peeping the video to "Take Whats Mine." This is an artist that does not just sit there and talk about making it,  he will not stop until he does. I can respect that more than most, so lets get into it with Young Fame!
Stoli: Where are we talking from today and whats up for tonight?  
Young Fame: Here in Essex, MD. Well it's Tuesday so tonight I will be working on my craft I have a four hour session tomorrow. Laying down two songs tomorrow to put together to shop for label deal.
Stoli: How did you get the alias, Young Fame?  
Young Fame: I felt that the music I do will inspire lots of people and that they would gravitate to it so from that I believe I would become famous so I named myself Young Fame.
Stoli: I love your single, "My Star." What was the inspiration for that song & where did you record that track?
Young Fame: Well the song just came to me from my heart for real. I got the track from DJ PAIN and I just laced that joint like in two hours.   I was just zoned out. I recorded it at Now Child Studio in Baltimore and my label sent it out to Chris at Bionic Earz to get mixed.
Stoli: I always see you with sexy looking woman. What do you look for in a woman and are you the type to take her on a date?
Young Fame: I mean I definitely look at the features, I gota be attracted to her and then I check her mind out. So if the beauty and the mind are right then that's a winner for me.   Yea I take them on dates, dates are kool.
Stoli: You are based in Baltimore, MD which has a reputation all its own. How has growing up in Baltimore shaped what you talk about in your rhymes?
Young Fame: Yea growing up in Bmore is rough, I mean I lost my brother to the streets and all but I try to stay positive by writing and perfecting my craft. Some of my writings reflect what I see and what's in my heart concerning the streets but some are also commercial songs and dance songs that I make for my fans to enjoy.
Young Fame "My Star" via Amazon:
Stoli: Hip hop is all about keeping it real. How much of your real life can you talk about on record and do you ever hold back certain details?
Young Fame: Well on some songs I hold back certain details and other songs I give a little bit more. It all depends on the mood the track puts me in. but I look at hip hop as an art, it doesn't only encompass the real life situations but it also lends to the abstract because its poetry to music and poetry can be about anything.
Stoli: Your beat are always next level like on your song, "Take Whats Mine." What producers do you work with and how do you know when a beat is right for you?  
Young Fame: Yea takes what's mine was a great song for me because I really felt that beat.   It really put me in the mood to like go all out and express my thoughts on this one. The producer that made that track was Lx Cruze, he is our in house producer for 3 shots productions, yo dude is really hot, he has what it takes to be big time. But I also work with DJ PAIN who is gold certified who did "Don't Do It" off of Young Jeezys album the Recession, so he is like the 1st major producer that I got a chance to work with.
Stoli: People outside the hood always asking why so many emcees are named with "Young" or "Lil." Can you explain to readers why this is so popular?
Young Fame: U know I never thought about that, maybe it's just an urban thing, but for me it was just a name I picked, when I signed to 3 shots I was only 17, so I just called myself Young Fame, that might sound korny but that's just how it is.
Stoli: If I was to come out with you in Baltimore on a Friday night. What spots would we hit up to get our party on?  
Young Fame: We would hit up Club Uzo on Friday night, now I don't know if it would be a little rough for you but that's where I hang.
Stoli: You are down with 3 Shots Productions. How did you hook up with them and what do they offer your career?
Young Fame: I hooked up with them because they about their business, they get me great producers to work with and great studios to lay my songs down. I don't have to pay for studio time or beats, they got me on that, all I gota do is write. 3 shots offers a great opportunity for me to get to the next level, so hopefully all the hard work will pay off and we will get our joint venture.
[youtube 2EvT08E-ek4 nolink]
Stoli: Most rappers have an entourage. How do you determine if someone is loyal to you or just trying to live off your movement?
Young Fame: You know I don't roll with an entourage, just me and my boyz I know for years. So as of right now I don't know how I can determine who is loyal because I don't really roll heavy with people I don't know. Tre' always says never trust new ni**as and I believe that so I just watch my back and chill with who I know.
Stoli: What gets you most excited about being an emcee in music's digital age?
Young Fame: I think it opens the doors to be very successful because it allows artist to reach thousands of potential fans, especially with Facebook, Myspace , Jango Airplay etc. and you can also get digital distribution for your singles and albums thru online distributors like Tunecore. So I think its great.
Stoli: Whats coming up for Young Fame and where can readers get more from you?
Young Fame: Well right now I am working on finishing songs for my album due to drop in September, I have a couple of shows for different charity events which include doing major shows for the public schools and also a major charity event for Mrs. Wheel Chair Maryland, which deals with different events held by people who are permanently disabled and bound to a wheel chair. I also will be working on two of my songs to include Casely from Miami Dade who is down with the Diaz Brothers, and Bianka a star Russian singer.   So those are just a few projects I am working on for now.
Readers can get more from me at www.myspace.com/artistyoungfame & www.facebook.com/artistyoungfame or they can join my fan mail at www.3shotsproductions.com