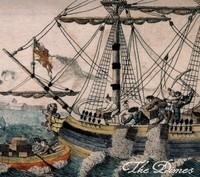 The King Can Drink The Habour Dry, the latest release from Portland's rising folk-poppers The Dimes isn't so much a concept record as it is an homage. Lyrically and musically, this seven piece band are clearly students of history. Sounding like a cross between a mellow and pratical Beach Boys and a slightly exuberant Elliot Smith, The Dimes delivers a remarkable pop record filled with stories of early day Boston. In a sense, The Dimes are chroniclers. And on The King Can Drink The Harbour Dry, they've created a dramatic and poignant history lesson.
Each and every track on The King Can Drink… seems fit for the next Wes Anderson movie. Ranging from the quiet, poetic sway of "The Liberator," which tells the tale of William Lloyd Garrison and his abolitionist newspaper to the playful acoustic melody of "Ballad Of Winslow Homer," The King Can Drink… is soundtrack music of the finest degree. Each of twelve tracks spin yarns without ever overdoing it, not the least of which being the swampy groove of "Charles Street."
Though Bostonians may find this record a little more enticing than most, The Dimes deserve a stamp of respect for turning what could have been, musically speaking, a hit record for the indie masses. Some may complain that The King Can Drink… is a little tough to digest lyrically, which is fine. I think those same people probably slept through history class, never allowing themselves to fall under the spell of yesteryear.
By Joshua Kloke
[Rating: 4/5]