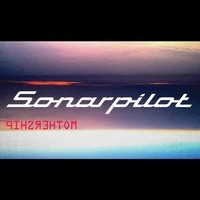 Are you ready for a futuristic sound explosion for 2010 & beyond???   Well get ready because Sonarpilot and the new double CD, Mothership, are about to blast off!   Sonarpilot is your captain and Mothership is your transportation, so strap yourself in and prepare yourself for one incredible ride full of wonder & excitement.  
Sonarpilot is actually composer and producer, Michael Moppert.   The Swiss native states that "Sonarpilot is my musical alter ego and to think of him as the enigmatic captain of a futuristic vessel that explores remote sonic spaces".   Moppert is no stranger to the music field as he actually started his own studio back in the 80s.   From there, Michael went on to become a CEO of a successful software company he started in 1993.   For 15 years as a suit and tie kind of guy, he decided to shed off those threads in 2008 and get back to the basic essentials.   Music and making music is in this man's blood, so it was finally time to fuel up the engines and take off!  
The use of sound on this double disc is nothing short of amazing.   The computer-generated effects that Sonarpilot creates give off a sense of unlimited space & time.   This record will lead you on one unforgettable journey through the galaxy of sound.   Through the eyes, ears, thoughts and insight of Sonarpilot, you will experience Mothership in all its glory.   I loved the true ambience that this album portrayed with a very airy, light and colorful substance to it.   Electronica at its finest here as you experience dance-oriented grooves for one long space voyage.   The percussive elements were very distinct and well-played while the mix of beats further added to this wide spectrum of audio.   One line in particular on the opening track, "First Contact", sums up this intriguing concept that Sonarpilot has provided for us: "We're about to enter the next sound galaxy; sit back and relax".   With ahead-of-its-time moments and live & happening beats, this round, spinning disc is about to take you to a world like no other.  
My only pitfall here is that the majority of the tracks on this record have an incredibly long running time.   The opener alone runs for 23 minutes and I feel that in today's face-paced world of short attention spans that there is simply no time for this.   I, myself, truly appreciate what Sonarpilot has done here.   I feel this work is worthy of being called one fine piece of digitally-enhanced art.   Michael Moppert had a true vision in mind and that is to make a perfect soundtrack to life & the great BIG universe out there.   I say job well done as Sonarpilot and the Mothership move forward.   For more on this multi/inter-dimensional artist and the exciting new double disc out this June, SKOPE out www.sonarpilot.com.  
By Jimmy Rae
[Rating: 4/5]