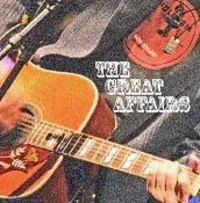 Before we get this started, realize I approach hanging a yoke around the necks of The Great Affairs with much trepidation. I really don't know how to begin to classify the Nashville outfit except to say they toe several lines in terms of genre. After several listens to their 2009 self-titled, my conclusion is: it's an aural barrage of Americana pop, country rock and honky-stomps. Think dusty boots and a crisp-collared button down.
Album standout "Break Me Down" is replete with rasp-stained vocals that are bolstered by slide guitar work whines and acoustic picking. It's a little country-fried with nuanced pop undertones. Front man Denny Smith's vocals channel Ryan Adams and portend to be a major dynamic of the album as a whole. "Undertow" is a raucous one-part ubiquitous acoustic, one-part honky tonk boot kicker. Straddling alt-country, twangy stomps and radio-ready rawk, the Nashville influence is worn on the sleeve here perhaps the most. Rounding out the breadth of the album is "Everything You Know" with memorable lyrics in an urgent vocal delivery, a diggable melody and tight electric guitar work. If there is/will be one, I predict this as album single.
One part Whiskeytown, throwback Soul Asylum and the Jayhawks with a bit of Wilco thrown in for good measure, The Great Affairs have rendered a respectable outing. The multiple (and relentless) genre-borrowing brings so many nuances to the table its hard to pin them all down. The specifics however are Denny Smith's vocal command and a backing band with a lot of disposable musicality; truly something for just about everyone. This writer likes.      
By Chris West
[Rating: 3.5/5]