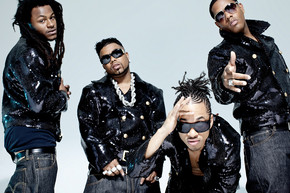 A lot has changed for the guys of Pretty Ricky, which consists of brothers Baby Blue, Spectacular and Slick 'em, as well as Lingerie, throughout the years, but one thing remains the same: they're freaks.
"We the freakiest on the planet!" says member Baby Blue.
Since 1997, the Miami-based group has been performing together, despite changes internally (Pleasure P was in the original crew and went solo in 2008, and Ambition/4play came and left). The ever-popular "Grind With Me", which was released on their debut album, was actually recorded at home.
"We were little kids in our bedroom recording that record," Baby Blue explains. "We did 'Grind With Me' in the closet…we didn't have sound-proofing…we put the microphone in the closet with all the clothes to sound proof it."
To date, the guys have officially released three studio albums, "Bluestars" (2005), "Late Night Special" (2007) and "Pretty Ricky" (2009). In doing so, they've created the
"Pretty Ricky brand", which has kept their fans always wanting more. Those that were fans in the beginning remain today, and will continue to grow, according to the group.
 
"We get younger fans, the girls in high school that were 16 or 17, the younger sisters that weren't allowed to listen to Pretty Ricky (but can now), girls in college and girls that liked Pretty Ricky (in the past)," says Baby Blue.
 
To show their love and appreciation, Pretty Ricky got married to all of their fans. They weren't joking, either. They have vowed to stick with their fans and stay with them to the end.
 
"We're not gonna quit," Baby Blue says of their music. "We getting married to you (our fans) and we got wedding rings for you. You rock the rings, wherever we go, wherever city we go, we got honeymoons. We got a phone number we got on, what city we're in, where we throwin' parties, call us (305) 600-3432. Holla at 'cha boy."
 
For these four busy guys, they've met a lot of women that love the "glitter and glam", but don't know about the 18-hour days, the traveling and being in different time zones and the absolute hectic life of a successful artist. Will Pretty Ricky ever settle down?
 
"Everybody wants the fairy tale thing, I want that story too, (but) in this lifetime, I dunno if I'm gonna get it," says Baby Blue. "I don't know if there's a female out there that appreciates what I do. Music is a business, this is what we do for a living, as a woman you have to understand and respect what I do."  
When it comes to their fans, the guys don't discriminate, either.
 
"We do have the homosexual fans, (ones) on the straight side, the dudes…you'd be surprised that the dudes (that) might not like what Pretty Ricky (is), but they like what they do for their girls," adds Baby Blue. "Older, retired people, they need love too. We make feel-good lifestyle records."
For more information on Pretty Ricky, visit: www.prettyricky.com.
Author: Erika Y. Gradecki – nextjam359@hotmail.com