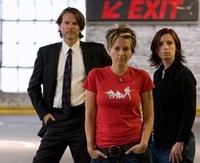 I'd like to introduce to you a cool alt-pop/rock band from Chicago with so much Midwestern swag.   The Locals are an indie rock band that offer a garage band appeal by way of their raw & stripped down sound.   You're also hearing heavy guitar parts and solid drumming on the new EP Salt.  
The new four-song set is a follow-up to their 2008 album, Big Picture.   The group is made up of: founding member, singer/songwriter & guitarist–Yvonne Doll, founding member & bassist–Christy Nunes and Kirk Snedeker on drums/vocals.   This power rockin'/poppin' trio offers up such a BIG sound for just three individuals.   This sense of audio played up to maximum capacity really comes down to The Locals just simply making it happen.   The ability to connect with one another on a musical level is one process that doesn't happen by chance.   The Locals, during the making of Salt, were able to vibe naturally allowing all of their artistic freedoms to be laid out in the open.   The connection happened in a humongous way as Christy, Yvonne and Kirk formed the nucleus that makes up Salt.   They collectively came up with songs that worked on all levels and in the end solidified all of their efforts.   There is definite studio magic present on this recording as The Locals season it up with their own personal touch.   The taste is good and so it seems the Chi-Town trio has whipped up a perfect concoction that is not too salty yet with plenty of flavor.  
Interesting background on all members that proves there is much more under the surface than just music makers.   Yvonne Doll, for one, is also a well-known visual artist who had pictures of people sleeping on the train (Sleepyurbanite.com) featured on The Today Show and NBC News among other spots.   Yvonne also dabbles with brushes as a well-respected painter.   Her bandmate, Christy Nunes, has a knack for the arts as well as a photographer.   Nunes started playing music on a professional level at the young age of 14 and has not looked back since.   Last but certainly not least, Kirk Snedeker started on the drums at 8, played in an Elvis cover band at 14 and also played with a Beatles-esque wedding band for 12 years.   With all this musical & artsy history to their name, it's no wonder this EP is so incredibly creative with artistic expressions screaming out.  
I simply love the style The Locals provide on Salt because it seems to be music that pushes along consistently while never letting up.   Right from the start on "Sound It Out", I'm hearing just fun-filled energy with a real pop/rock feel.   The entire song is melodically sound while you sense right away that Yvonne has got some edginess to her voice.   Doll packs a solid punch with her flavorful vocals as she sings with so much damn UMPHH & attitude!   Displaying much gusto during her vocal performance, Yvonne proves that she has a lot to sing for.   On track three, "Everything Must Go", a jam session is in full effect as the whole band is just feelin' it and takin' it home.  
In the End, The Locals are showing real drive in order to create a killer vibe for you and I to enjoy.   The guitar, bass and drum lines are all phenomenal and Yvonne's glimpses of Gwen Stefani's singing style all make this one exciting EP.   I just wish there were more than four songs; GIVE US SOME MORE SALT AND MAYBE A LITTLE PEPPER NEXT TIME TO HELP SPICE THINGS UP!   For more on The Locals and their new release, Salt, SKOPE out www.thelocalsrock.com.  
By Jimmy Rae
[Rating: 4.5/5]