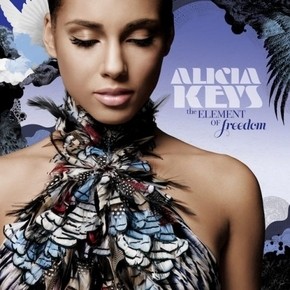 It's been quite a LONG time since I last went to a concert (yeah, funny for a music freelancer right?). Yet, I do have to say that all the time missed was surely made up last Saturday, March 13th, at MGM Grand at Foxwoods in Mashantucket, Connecticut.
As a last-minute fill-in (a friend couldn't make it and I stood in), I went with a close friend to see the one-and-only Alicia Keys perform during her "Freedom Tour", which has been promoting "The Element of Freedom" (2009), her fourth album release to date.
Keys' (born Alicia Augello Cook) career has skyrocketed since her 2001 debut "Songs In a Minor". With piano talent that has been instilled in her since age 7, Keys has in the last decade proven to not only have incredible talent, but to have longevity in the entertainment business.
Originally, Keys was scheduled to perform a one-night only show in CT, but because of her popularity, a second show was added the following night. For those that have never seen Keys perform live (myself, included), she definitely keeps you entertained throughout her set.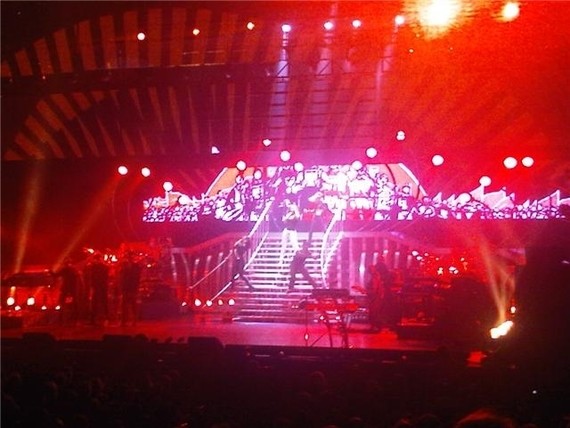 The nearly 90-minute performance included Keys' top-rated hits from all four of her albums to date. From "Fallin'" to "Karma", "No One" and "Like You'll Never See Me Again", Keys also belted out quite a number of songs from "The Element of Freedom", which have had continuous radio airplay since last year, including "Doesn't Mean Anything", "Un-Thinkable (I'm Ready)" and "Put It In a Love Song" (which features Beyonce, but B was not on tour with Keys).
The best part of her show was not only the different stage sets, but the special effects. Beginning the performance in a cage (which looked like she was locked in a jail cell), Keys broke free with "Love Is Blind", one of her tracks off "The Element of Freedom".
Bright lights also sparked and hovered above Keys, depicting the words "CHANGE" and "HOPE", as she lay out on a beautiful grand piano, belting out tunes (She did, of course took the time to play the black and white keys as well). Keys also played a few notes on a guitar that looked like a keyboard, with both ends depicting a large key (unique and very cool, I might add).
Performing was not the only purpose for Keys during her tour. Spreading a message of strength and true freedom, Keys brought a message of inspiration and love to all her fans. In addition, she promoted "Keep A Child Alive", a non-profit organization that Keys started with TV/film producer Leigh Blake, that provides HIV/AIDS treatment to children and families in both Africa and India. She even urged her fans to text "ALIVE" to 90999 to donate $5 to the foundation, which began its texting campaign in 2008.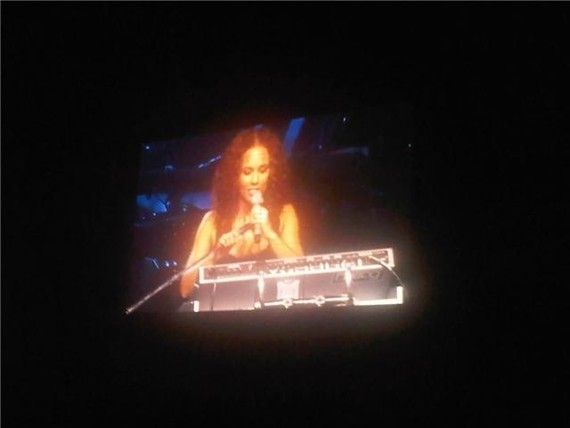 A performance one can never forget, Keys definitely allowed her audience to have a taste of freedom.
For more information on Alicia Keys, visit: www.aliciakeys.com.
Author: Erika Y. Gradecki