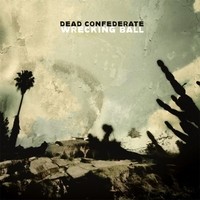 Grunge may be the kind of genre that is still fodder for every jackass critic out there. But there are bands fighting to keep the swampy, uncomprimising attitude of grunge alive. And Dead Confederate, the Athens-based five-piece is one of those very bands. Wrecking Ball, their latest, stomps, swirls and haunts, while still paying close attention to the dusty swagger that Southern-rock should. Simply put, Wrecking Ball rocks way with way more force and pugnacity than you could have ever planned to hear.
"Heavy Petting," the vigorous opener steams ahead with heavy, driving riffs while "It Was A Rose" adheres to another potent charm of Southern rock: the murky, haunting vibes. Two and half minutes of tense buildup soon give way to a furious sonic onslaught, combining the spaced out solos reminiscent of My Morning Jacket with the trademark howl of vintage Alice In Chains.
"Start Me Laughing" brings to mind Throwing Copper, the sublime sophomore release from the now defunct Live. There's an unadultered passion for pure heavy rock that exists on Wrecking Ball. It's heard in spades and never relents. Exhausting as Wrecking Ball might be, it's a welcome sound: that of five rock and roll purists playing at a pace and sound level that speaks not to critics but to their persistence.
By Joshua Kloke
[Rating: 3/5]