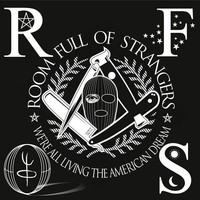 What you get from this five-man crew from Orlando is complete and utter pandemonium.   The five-song EP comes fully equipped with a DVD, so you can hear & see the craziness for yourself.   What makes this group so eccentric is the fact that they perform their music in black ski masks.   That's right…BLACK SKI MASKS!!!   The scary get-ups actually symbolize a sense that we are all strangers, but for this reason we all stand tall.   Attempting to bring unity amongst listeners through unconventional measures is quite an interesting concept here.   Their message is simply that we're all the same in this sheltered society, so grab your mask and let's go!   The ironic twist is that Room Full of Strangers is emphasizing this stranger-related idea by deciding to hide their own identities.    
Whether you find yourself running scared in the other direction or if you surrender to the highly original sound that makes up a Room Full of Strangers is your choice.   The title, We're All Living The American Dream is a direct & sarcastic jab at the rich, greedy and corrupt Corporate America we live in today.   RfOS is made up of: Mick "Dagger" Mcluan as the voice, Cha Chee/Zed on bass, B.E. Stranger on drums, Stranger #2 on guitar and The Reverend K Mang on guitar.   Kiss puts on their make-up and gives you one hell of a rock 'n' roll show and now Room Full of Strangers put on their black ski masks to stir up some reactions and freak some people out in the process.  
This Orlando-based band in fact does want to weird out individuals through their music, presence and shows.   They want the room full of strangers to definitely have a good time mind you, but this group is not fully satisfied until the audience is feeling a bit uneasy.   Room Full of Strangers is all about taking people of out their safe zone as they stand true by their motto:   "to comfort the disturbed and disturb the comfortable."   This is both intriguing and twisted all at the same time.  
The EP is full of angst, defiance and rebellion that matches well with its punk influences.   Room Full of Strangers is kickin' up some dirt to bring you fun, in-your-face aggressive rock jams.   The songs are very fast & energetic with some kick-ass guitar parts I might add.   The overall sound is hard-hitting and adrenaline-rushed.   Mick "Dagger" has a very unique vocal style that for one is wildly different, but one that seems to work on this disc.   On the track, "Part of Me", what a yell Dagger belts out that pierces right through you.   He appears to be literally coming unglued right before your ears with pieces of Mick falling everywhere.  
Their philosophy of wanting to make one feel uncomfortable carries right over into their awkward display of music.   One thing is for certain and that is that the whole band came to play hard and came to rock the f'ing joint.   Play hard or go home and Room Full of Strangers definitely did just that but in a bizarre fashion.   I haven't caught on yet to the ways of the ski mask bandits, but this could be an insane craze that catches on fire.   Lock your doors and listen up as these bank-robber-lookalikes break into the music scene.   For more on Room Full of Strangers and their new release, We're All Living The American Dream, SKOPE out www.myspace.com/roomfullofstrangersband.  
By Jimmy Rae
[Rating: 3/5]