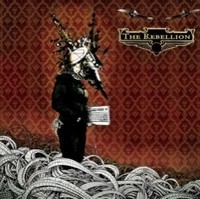 When commonality and diversity meld, the result is typically something quite dynamic. And in a world that is too often wrought with the maxims "similarity breeds contempt" and "difference causes conflict" it is a breath of fresh air when the opposite is achieved. Enter The Rebellion. Two native Canadians, a multi-instrumentalist from Romania and a drummer from the Republic of Congo make up the ranks of this indie outfit from Saskatoon. Leaning on their aforementioned differences and similarities, they have released their second full-length album Time, an album that is truly representative of the diversity of the members it was born of.
Album opener "Dr. Don't" opens to frantic drum work, which gives way to moody piano and Silvu Moldovan's intricate guitar riffs. Josh Palmer's staunch vocal delivery carries the track through verse to chorus, which is reminiscent of a Fray tune (actually, many are). "One Night Hero" continues the radio-friendly ethos of the album with a flurry of instrumentation, approachable lyrical matter and Palmer again, assuming dual duties of piano and vocals. This is sure to be the second single from the album. The balladesque "After the Rain" features Palmer's upper range vocals over demure backing piano. It's a down-tempo, change of pace, shiny moment of the album and stands tall amongst its simplicity. But even in its simplicity it evokes the same power as say, REM's "Nightswimming." "Don't Know How" is further testament to the album diversity with dirty distorted guitar, urgency from the rhythm section and a matching lyrical tempo. Aside from the time change in its middle, it is the "busiest" track on the album.
It is the sophomore outing from The Rebellion that proves they got it right. Their relentless genre-borrowing eschews all pigeonholing (maybe even classification) and yields an eclectic album with simply too many facets to count. The tight technical work, the myriad of musical styles and the available musicality at their disposal has rendered a respectable final product.
By Chris West
[Rating: 3/5]