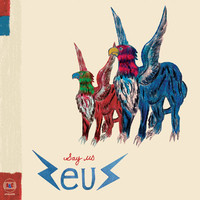 Although a relative newcomer on the Canadian indie scene, Zeus, a Toronto foursome are one hell of a classically trained act. Their debut EP, Sounds Like Zeus garnered rave reviews, not the least of which for their rollicking cover of the Genesis hit, "That's All." What's more, these four spirited, harmonious dudes cut their teeth as members of Jason Collett's (Of Broken Social Scene and a prominent solo act) backing band. And how soon I forgot that the band chose to name their band after one of the most recognizeable Greek Gods of all time. Yes, Zeus are certainly one old school act.
As mentioned, it's rather easy to slip Say Us, the band's debut full-length into your music box and be transported back to a time when attention to songwriting and a patient manner in which Zeus have honed their craft was held in a higher esteem than costumes and auto-tune. Tracks like the shifting yet powerfully haunting "Fever Of The Time" and the garagey, building stompfest "Kindergarten" show off the sonic capabilities of Zeus; think
CSNY with a more energy drinks and less grass.
And, true to form, Say Us isn't the kind of record that fades away after a few listens. It's a deep record; the band waxes whimsical on "The Sound Of You," a deep cut that warrants the "Repeat" button more than a few times. While a classically trained indie rock band is nothing new, there's something genuinely exciting about Zeus. It could be the fact that throughout all this attention to classic rock tools of the trade, they still maintain a youthful exuberance that's impossible to ignore. Or maybe it's the fact that there isn't a bad cut on the record. Regardless, the band utilize the sounds they've ascertained in the youth and throw their own fresh coat of paint on them. Keep an eye on these guys.
By Joshua Kloke
[Rating: 4/5]