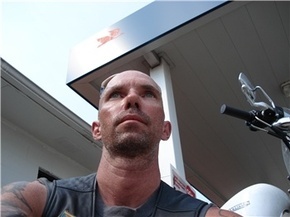 My next guest is not only an amazing musician, he is a wonderful person as well. William Funk put out an album last year called, 'The Veronica Sessions.' He has sold thousands of copies independently and has decided to donate all proceeds to Generation Resuce. William's good friend's son was diagnosed with Autism and since then William has been devoting himself and his music to the fight against Autism. Join us this week as we see what's up with William Funk and raise awareness as well!
Stoli: Where are you as you do this interview and how are things going?
William Funk: I am in Montreal after a visit to Mexico. Funny, I visited a city named Veracruz and when I arrived I felt as though I was coming home. One day, in a nearby town I stopped and tossed a coin into a well and made a wish. Wouldn't you know it…it came true! How do I feel? Lucky.
Stoli: Is William Funk your real name or stage name?
William Funk: It is my real name.
Stoli: You took a break from music for well over 10 years. Why did you feel you could not write and compose your own music?
William Funk: I think it was because I lacked the necessary inspiration. Every time I tried it seemed forced and contrived. I would try to conjure emotion out of my pen rather than let real emotion flow.
Some will say it shows but I wrote almost all of the songs in "The Veronica Sessions" in less than one hour. There were some revisions in the studio but the skeletons did not change much. Producer, Joe Barrucco, spiced up all of the tracks with his own ideas. It is as much his CD as it is mine.    
Stoli: What was that moment that gave you inspiration to start to write music again?
William Funk: That is a tough question. It started in the early morning hours in a San Juan, PR hotel room. To this day, I still do not how it all came to pass. However, during those early morning hours the floodgates opened and I am eternally grateful.  
Stoli: During your hiatus, did you give up on music totally or just your own music?
William Funk: Totally. I picked up the guitar again a few years ago after a trip to Buenos Aires. The road back was brutal. I basically had to start from scratch. My voice was different. My guitar playing was brutally awful. It was like 4 years of music rehab where I had to learn everything over again.
Stoli: Why did you title this album, 'The Veronica Sessions?'
William Funk: Well, if it was not for my chance meeting with Veronica the CD would have never been made. That and the title seemed pretty cool to me.  
 
Stoli: Is Veronica a real person & if so who is she?
William Funk: She is real. Without her, I would have never found what I was waiting for all of my life. What I found was thousands of miles away from Veronica in Mexico. Who is Veronica? An absolute angel.
 
Stoli: You have decided to donate proceeds from the sale of the album to Generation Rescue. How did you link up with Jenny McCarthy's Autism charity?
William Funk: Great question. They have a great focus on research and support (Rescue Angels) which really struck a chord in me. As well, they have a great program, "Shopping Affiliates", which allows retailers and the like to donate a percentage of sales to their charity. I think that is a great idea.
Stoli: Has Autism effected you personally and what made you want to forgoe all the proceeds from the album?
William Funk: Yes. My great friend has an Autistic son. To me, he is the greatest kid on the planet and I enjoy spending time with him immensely. I have learned that the financial burden parents of Autistic carry can be immense. Donating all CD sales to an Autism charity is my small way of helping out.
[youtube r5wink3DAJQ nolink]  
Stoli: How can readers help fight Autism and what should they know about this disorder?  
William Funk: I am not an expert. However, the first step would be to support an Autism charity. Of course, I am biased in my support for "Generation Rescue." Next, there is a lot of misunderstanding and controversy surrounding Autism which I will do my best to avoid getting myself involved with. That said, as for as my relationship with Alexander (the Autistic boy in my life) is concerned, I love him just the way he is: perfectly unique.
Stoli: You reside in Canada. Can we expect a tour of the USA anytime soon to promote the album?
William Funk: I have not completely ruled out the possibility. If I do tour it would likely be exclusively in the USA. Perhaps backing up a more established artist or sitting in for a night or two and performing a couple of my favorite tracks. Of course, all proceeds would go directly to charity.
Purchase 'The Veronica Sessions' via CDBaby.com:
Stoli: I like the pictures of you on your bike. What kind of bike do you ride and how does that play into your music?
William Funk: It is a 2006 Harley 833L – about as simple as they get. For the first two years I put on about 30,000 miles. This is pretty good for a very short 3 month Canadian biking season. Truth be told, almost all the miles were put on in the USA.   How does not the bike influence my music? The best things in life are simple and cool.   If someone calls my music simple or cool I will always take it as complement.
Stoli: What are you looking to accomplish with your music and what makes you most proud to be an independent musician in 2010?
William Funk: I really want my music to inspire people to give to charity – especially Autism charities…especially "Generation Rescue." I am proud that independent musicians have a voice and opportunity to share their sound with the world. It is doubtful that my CD with all sales going to charity could have been released a few years ago.
Stoli: What is coming up for William Funk and where can readers get more from you?
William Funk: Well, wouldn't you know it….I had another one of those chance meetings not so long ago. From the instant I saw her I knew she was going to be a special person in my life. It is early in our relationship but the future looks bright for both of us. I think I am going to let her be the center of my little universe as long as I am lucky enough to have her in my life. Lately, I feel pretty lucky…so…I am hopeful that she will be my center for the foreseeable future. Yes, I think 2010 might be a good year for me.
www.myspace.com/williamfunkmusic