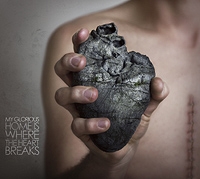 This Vienna, Austria-based rock trio are bringin' the ugly truth to the forefront with no sugar coating.   However, the overall sound coming from these three musicians is far from ugly.   What I heard on this new record were straight rock grooves mixed with a raw & brutally honest sound.   My Glorious offers garage rock with a message.  
The band is made up of:   Sami Fischer as the lead singer & guitarist and twins, Gregor on bass & Paul Sailer on drums.   The trio also had some help from renowned sound engineer, Raphael Spannocchi who the group has named "the fourth Beatle".   Add all of this together and what you get from Home Is Where The Heart Breaks is one powerful & compelling record.
My Glorious was actually created through the break up of their former group, Fresh.   Fresh was together for seven years and after the separation, these three Austrians knew they had to "do it full or not at all".   My Glorious did just that with their debut album by offering up a full dose of hard-nosed rock.
Coming off their self-produced EP, Leper, My Glorious seem to have a lot more to say on this one.   The CD starts up with a song titled "Love Extenders" where you hear Fischer say "Music always got something to say".   You can tell right away that Sami has direct-to-the-core lyrics that are meant to have a huge impact on the listeners.   I also get the sense that Fischer & company are looking to make a huge change in this world directly through their music.   Next up, "You Should Be Dancing", you hear big-bang rock grooves with a genuine message.   On the track, "Blue Horizon", I experience a drawn-out sound that comes across as a conceptional-type rock number.   On track four, "Break My Heart", you get a real rock guitar sensation with a nice beat and some real deep/personal thoughts coming out of the voice of Sami Fischer.   The album flows along into the depths of "Under The Water" where a very cool guitar riff is picked up on to go along with an overall committed group effort.   Song six, "Blind Believer" really talks to you in an impactful & touching way.   To the beat of a killer bass line, Sami on "Blind Believer" had this to say:   "This is the bread for the ever hungry.   This is water in day of drought.   This is feet for the amputees.   This is the hope for the blind believer."   Wow…these lyrics really make you think hard for a second as the lead vocalist touches on some important/heartfelt topics.   Galloping along, we get to hear "Horse" that gives you a great feeling to just ride free.   I'd also like to add here that the back-up singer added a nice touch on this installment.   On song nine, "Use Me", just let loose and have fun with this jam out session of guitar, drums, bass and singer bringin' the noise!   On "It's Love When", you get mellow, insightful tunes that will leave you pondering just 'when exactly is it love?'.   The record finishes with a strong beat of the heart where My Glorious prove that no words are needed, just good, influential music.  
What I loved most about this new record is the simple fact that it is 100% real.   The album also exhibits an in-your-face attitude where the Austrian trio see no need to hold back their emotions/feelings.   This group lets it all out as they hope to have a big effect on the public.   For more on My Glorious and their new release, Home Is Where The Heart Breaks, SKOPE out www.myglorious.com.  
By Jimmy Rae (jrae@skopemag.com)
[Rating: 4/5]