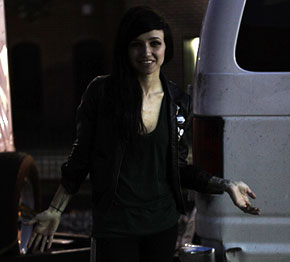 Hear what LIGHTS has to say about Lilith Fair 2010, her male fans, and of course: World of Warcraft.
How has the tour been so far, playing for sold out crowds?
It's been amazing! Especially considering it's an Owl City crowd. People that come to see Owl City shows come to see music they can sing-a-long with, electro-pop, and have a really good time. I think that has a lot of things in common with my music, so it's really really been fun to play for sold-out crowds that are there to hear the kind of music that I make.
I mean, I've toured with people that are the opposite of me and that's a little tough, right? I did a week long stint with Protest The Hero and Chiodos, and that's a different kind of crowd.
Are you for real?
It was Protest The Hero, Chiodos, From First To Last, and me opening. Some people loved it, and I met a lot of new fans but there's obviously people that hate it.
You just got announced for Lillith Fair 2010 which has an all-female line-up. Are you looking forward to it?
Oh, it's going to be amazing. This is the first time Lilith is back after about ten or eleven years, and it's coming back with a bang. It's insane seeing the genre of artists that Lilith is bringing in. The first year, it was kind of the "Lilith sound" the first year it was done, and now it's people from the Gossip to Corinne Bailey Raye to Loretta Lynn to La Roux. It's just such a broad genre of music, and it shows that women are really expanding in this industry.
Is there anyone in particular you're excited to see on the tour?
There's a few I'm actually really excited to see. I'm probably going to check out Kate Nash and La Roux, just girls on the cutting edge y'know? Seeing what they're doing and how they're doing it live. Then obviously the classics like Emmylou Harris, Loretta Lynn, Metric, Tegan & Sara, who are going to be on the whole tour, so looking forward to watching them everyday.
In your free-time, are you still an avid World of Warcraft player?
Of course! Always.
Do people on World of Warcraft know who they are playing with?
It's starting to happen that way at this point. Especially on my server, there's an entire guild called "LIGHTS" and it's a bunch of really sweet fans that all get together and play WoW with me, so I'm in the same guild. There's about 188 members of people that have joined because they like Warcraft and like my music. It's a blast! We all raid and do dungeons together.
Do you let them know, or do they find out?
If they follow me on Twitter, sometimes I post about WoW. People that ultimately do their research know which server and character name I am, and you can join the server and I'll guild-invite.
What you're doing though when you're not connected to the internet, and can't play it?
If I'm in the van for example, I'll just sit there with my keyboard just to keep my fingers burning and keep my mind going and the ideas flowing. I'll listen to music, and think about lyrics. It's nice to have time when you don't have to do anything.
You don't see many girl gamers around. Besides WoW, would you say you're a bit of a tomboy?
Well, I was a home-schooled kid. All my interests were based purely on what I was interested in, and not based on what all the other girls or boys were doing, so I didn't really know if I was a tomboy or not until I went to school and was like "Wow… I like games and comics, and I don't like ponies and Barbies". I guess you could say I'm into a lot of things that guys are, but I'm definitely a girl too. I treat myself all the time, in a girly way.
I noticed most of your fans are guys, and hopefully most of them are really respectful, but have you noticed any of them trying to make a move?"
[Laughs] People are generally really respectful. Usually there's the odd person in the crowding going "You're hot!", but that only makes me want to work that much harder to show them that more than anything I'm a musician and I work really hard at it. I think by the end of the show people realize that and commend me on that.
Some of your fans were wondering, what Nintendo DS you have?
I don't have a DSi, I still have the older model. I had lost my DS and was actually given one by a fan, so I use that one now.
A lot of your fans are waiting for an acoustic album. Any possibilities?
It's definitely an option for the future. I may wait until I've developed enough a renown for my music actually is, electro-pop, before I do something acoustic, because I don't want that to be peoples' first impression of me, because thats not what it is. I'll wait and work a bit harder and lay down some foundation of my electro music before I release that. For now, it's all on the internet and there's tons of acoustic videos and everything, which I'm sure will be manifested on CD at some point, but I have to wait a little.
If for some reason you weren't doing music, what do you think you'd be doing right now?
I'd probably be doing something in game design or animation… or NASA! I'd work at NASA.
I saw IGN actually interviewed you. Were you really happy about that?
I was excited! Every time I get a gamer-based interview, I always get very excited. I can geek-talk and they'll understand.
Since you've been touring in the States for so long now, what would you say is some of with your gripes with the States that Canada has seems to have set down. I saw you were kind of ranthing that we have ketchup chips, which we do have by the way!
That's what I heard, I was proved wrong, apparently you do. As far as complaints, I don't have any to be honest. It's definitely different in the sense that in Canada, my music gets a lot more radio-play and gets played on MuchMusic, which plays music videos and stuff. It's like FUSE. So, when you do a show, you have a huge broad audience of people coming who aren't necessarily core fans. They know of your music from the radio and they come to check you out.
Here, if I'm do a head-lining show or something, everyone that comes out is there because they discovered the music somehow and they love it. They haven't just heard it on the radio, which I think is really cool and everyone sings a lot that much more. That being said, I like doing shows here better just because people are there because they found it.
I mean, I love doing shows in Canada too obviously, but it's different here.
You can read our first interview with LIGHTS from October here, and don't forget to check out our live review of her show at the Ritz Ybor with Owl City.