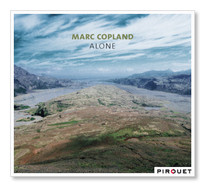 Marc Copland is by himself at the piano, just he and his thoughts tickling the ivories. By definition, Marc Copland is alone. Alone with his remarkable talent, his passion, and his emotions, all of which you hear on his aptly titled album, Alone.
Each song on this fascinating album showcases not only Copland's phenomenal talent, but also his soul and depth. Whatever he's thinking about is beautiful, which he's able to perfectly convey to his listener. Not only is the music itself intimate and pure, but the listener gets to be just as much a part of it. It's like having your own private show, Marc Copland sitting at the piano in the corner of your living room for a personal serenade.
One of the most interesting aspects of this album is the selection of Joni Mitchell covers. While Copland's own compositions are beautiful and passionate, one of the standout songs is his rendition of Mitchell's "I Don't Know Where I Stand." It's both stunning and haunting. The melody is undeniable, and captivating, but what he does to it is so beautiful. He has made this a solo piano piece. It doesn't need words, his playing says it all. This song is now uniquely his.
With titles like "I Should Care" and the aforementioned "I Don't Know Where I Stand," this album asserts itself as being one for those who understand inner turmoil. Copland has made it where he is because of his vast talent and also due to his ability to embrace his emotions and use them to improve the quality of his music. Alone is not only a treat for the ears, but also a fascinating personal conversation with Marc Copland.
Review By: valerie Williams
[Rating: 4.5/5]