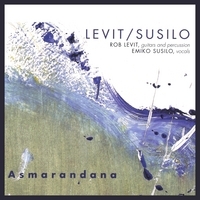 The new record, Asmarandana, features two highly talented individuals whose names are Emiko Saraswati Susilo & Rob Levit.   Susilo handles all of the fine vocals on this album while Levit takes care of all the plush guitar parts, percussion, song arrangements, original album paintings and production.   The duo has united as one to create a compelling piece of work.   The two artists have created a sound that is both peaceful & relaxing while looking to get in touch with your spiritual side.  
"Asmarandana is actually a form of Javanese macapat, a traditional poetic form that is sung rather than recited."   The word "asmara" refers to passion or love while "dana" from the abbreviation of "dahana" pertains to "fire", "dana", "to give" or even "value/price".   In the end, there can be many interpretations for this word such as: "The fire of passion", "The price of love" or "To give love".   There may be some confusion with the album title, but no confusion as to what Levit/Susilo have creatively done here.  
Right from the start on "Ati Bolong", you hear the guitar & the voice coming together perfectly.   Emiko's vocals are taken in as being deeply personal & very impactful toward the listener.   Next up on the line-up is a song called "Rep Sidhem" where a beautiful pitch & tone is picked up on right away by Susilo's singing.   Her distinct voice blends right in with the wonderful grouping of melodics being displayed here.   On the title track, you receive impeccable singing & guitar playing while also hearing a terrific musical connection between the two.   On this number, Levit/Susilo are bringing you a song emotionally full of spirit & wonder.   The duo will take you on a spiritual journey on "Asmarandana" by giving you "The fire of passion" or perhaps "The Price of love".   Love was definitely in the air because Emiko is a "firm believer that through the arts we can connect to one another, find peace within ourselves and create a better world."   I think this phrase is so well put as it really speaks directly to us from the heart.   On song five, "Manggalagita", you witness an incredibly delicate vocal performance to go along nicely with Rob's superb playing.   Susilo's voice is just so inviting & pleasant here as she really seems to connect with her listening audience.   On tracks 7-8, the duo decides to speed things up a bit with a faster, more up-tempo beat.   On "Demonya Tukang Bonang", Levit & Susilo are truly singing & playing to one another here by feeding off of each other artistically.   When this musical camaraderie happens, it is just a great thing to experience.  
Both artists have interesting backgrounds in music, which further adds to the overall dynamics of the record.   Emiko has a deep-rooted history involving Javanese and Balinese gamelan & dance.   She has been singing her whole life and she even went on to study Javanese music & vocals at UC Berkeley.   Susilo has traveled the globe performing not just as a singer but also as a dancer & musician.   She is also the founding member of Cudamani, one of Bali's finest performing ensembles.   Switching directions now to talk about Rob Levit who is a well-known jazz guitarist and leader of the Rob Levit Trio.   Besides music, Levit also paints, writes poetry & essays as well as being an active member of his community.   Rob has even won awards for his involvement with making the community a better place for everyone.  
So you have two stand-up acts who are bringing you an album full of World Fusion.   Levit/Susilo hope to bring people closer simply by the music they have created.   Asmarandana hopes to make the world a better place with a sound that intrigues the mind, body & soul.   I would say that this record would be ideal for meditating due its tranquil vibes throughout.   I also feel that Eniko Susilo's voice would be perfect for singing classical music because of her lovely range.   In the end, I just hope that there is a market/target audience for this recording because Asmarandana is uniquely special.   For more on Levit/Susilo and their new release, SKOPE out www.asmarandana.net.  
By Jimmy Rae (jrae@skopemag.com)
[Rating: 4/5]