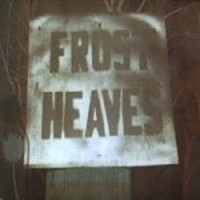 Daniel Hales and The Frost Heaves may be based out of western Massachusetts but they sound like they should've come from Athens, GA. Hales offers an even mix of airy psychedelic melodies and raucous alt-country barn burners, drawing from the likes of groups like REM, Flaming Lips and Wilco. It's a sound that wouldn't be accused of being original, but it's catchy and fun all the same.
 
Hales' cast of musicians brings a cavalcade of unconventional instruments to the album for a densely layered effect. Banjos and dobros accompany pedal steel and Wurlitzers giving just the right dreamy effect for tracks like "Bridges Freeze First" and "Distance to Mars". Hales tends to stretch every lyric on the softer tracks, as if he is reluctant to finish any given word. The result is an added surreal edge that's at once bewildering and pleasant.
 
But the real standout feature on Frost Heaves is the lyrics. Hales is often prose-minded in his song writing approach, painting poetic images that intertwine with the ethereal sensibilities of his pop ballads. Carefully crafted lyrics such as "I'm the shepherd of lost shopping carts, pushing my flock across the lot, a pasture of dreaming and long distance thoughts", are a rare commodity now days, but Hales seems to have an abundant supply. Even in the faster, less serious songs, Hales demonstrates a knack for diction and description. On "Questions for a Carjacker" Hales warbles in a faux-southern twang, "Now how and why did you steal a 12-year-old Century with two bald tires …what scum-sucking lowlife is driving my white-bodied, blue-interiored, American-made baby tonight?"
 
The only complaint to be had with Frost Heaves is the track order. Hales opens the album with two very slow and drunken tracks before mixing in the peppy Beatles-esque "Loose Thread" and then goes right back into another slow song. And while they're all great songs, the concentration of the soft psychedelic stuff up front robs the album of its momentum before it ever gets started. There're plenty of quick tempo rockers deeper in like "Wrong Meter" and "Northpole in July" but you have to be patient to find them. Of course, this is a minor, nit-picking criticism. There are plenty of bands who wish track order was their only problem.
Review By: Dave Feltman
[Rating: 4/5]