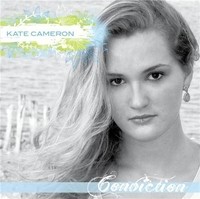 It's hard to believe that a 16-year-old girl could write such a compelling piece of work, but that is the case here with Conviction.   At just 16, Kate is the sole singer/songwriter on this new project as well as playing the role of guitarist & pianist.   Boston area-based studio owner and producer, Bob Pascarella, took care of the rest.   Pascarella's wife, Amanda, who is a veteran singer herself, even offered Cameron some pointers on vocals.   What you have before you is a debut seven-track EP written and performed by one immensely talented individual.   Kate Cameron is still very young with so much potential and I feel the sky is the limit for this teenager from Duxbury, Massachusetts.  
It's amazing to look back and see that Kate already has 9 years of experience within the realm of music.   At age seven, she started playing the piano and at age 11, Cameron taught herself guitar & also started writing songs.   She has already blossomed into a well-rounded artist while still experiencing adolescence!   Amazing…This singer/songwriter/musician has a bright, bright future ahead of her without a doubt!
The EP blends together pop, rock and blues, which is Kate's forte.   What blew me away was how Kate sang with so much soulful emotion throughout the recording.   You're not hearing teenie-bop garbage here at all; no, you are hearing maturity from an artist who believes in herself and her music.   I know I believe in Kate Cameron's abilities and I'm sure you will too once you hear Conviction.  
As soon as you push play, you experience Kate's youthful yet mature spirit & innocence on "Big Star".   Her hopes and dreams come shining through as she sings about becoming a "Big Star" one day.   Next up, "All That You Are", has Cameron getting in tune with her soulful side.   Her vocal approach on this track offers up a great balance in tone.   "The Sun" rises next with Kate shining all over this song.   On this number, you hear Cameron establishing good control over her voice while singing with an outburst of energy, emotion & feeling.   On track six, "Soul Mate", you receive a heavy dose of blues with bluesy guitar licks.   The material written, played and performed here seemed way too deep for a 16-year-old girl to take on.   But you know what…Kate Cameron made "Soul Mate" her own, made it very believable and really owned this song!   I would say that "Soul Mate" is one of Kate's most powerful performances on this record.   It seemed as though Cameron and Conviction got even better as the disc rolled along, which was inspiring to hear.   She appears to be growing right before our ears!
I can't forget to mention that Kate's piano playing really added a nice touch overall.   In the end, Kate's efforts on Conviction are nothing short of astonishing.   I foresee Kate Cameron going on to make many more records while becoming a full-fledged and respected music artist.   I swear to that statement and if you don't believe me then convict me of perjury!   Love to see where this singer/songwriter/musician is in say 5-10 years.   For more on Kate Cameron and her exciting new release, Conviction, SKOPE out www.myspace.com/katecameronmusic.  
By Jimmy Rae (jrae@skopemag.com)
[Rating: 4.5/5]