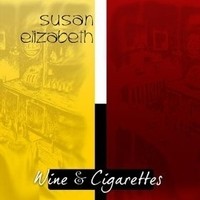 Susan Elizabeth is bringing you an album that will relate to so many people on so many different levels.   Elizabeth gets extremely personal on this record as she refers to this project as the "soundtrack of her life".   The new album touches on Susan finding herself, discovering Buddhism, discussing a past marriage/divorce and finally finding new love, losing it and then rediscovering it.   Powerful stuff here as Susan Elizabeth lays it all on the table for her listeners.   The guilty pleasures of wine and cigarettes are always there to comfort her in time of need.   These guilty pleasures pour out of Elizabeth through her music.
This musician/singer/songwriter is not only venting her own feelings but also trying to connect with people on a higher level.   This solo artist is attempting to make a difference in people's lives by simply telling her own life story.   While showing incredible tenacity, Susan performs with so much passion, heart and determination.   Whether she is singing, playing acoustic guitar or hittin' those keys on piano, Susan is always true to herself and true to her fans.
The CD offers up a ridiculously cool style where Elizabeth is workin' it out, bringin' it and makin' it happen.   Her vocal & musical delivery comes in a complete package that is nothing short of stupendous.   A good example of these talents mentioned would be on track two, "Jones for This", where Susan adds a very nice touch on piano to go along with a powerful vocal performance.   This song is extremely fun & vibin' while also offering plenty of good character.
The album starts up with a song titled "Closer", which has a pop/rock feel and is full of spirit & energy.   The song will also bring you "Closer" due to a beat & flow that is just happenin' all the way.   The third installment, "All Comes Down", gives you low-key & subtle singing but still with plenty of emotion and combined with pleasant piano playing.   "We Got Married" has Susan speaking in a softly spoken manner while not losing touch with her true feelings.   Next up, "The Excitement Before", includes perfect acoustic guitar playing that matches well with the song & voice.   Here, she plays and sings like there is no tomorrow as one very dedicated musician.   Song seven, "Reinventing Sara", supplies the listener with nothing but tender feeling to go along with a wonderful pitch and melody.   "That Girl on MTV" comes quick with a hand-clappin' jam where I just continue to love her hip style.   Track 10, "I Really Don't", appears that Susan Elizabeth has a lot to sing for and she backs it up with a great voice.   The record closes with a song titled "I Think of You" that is extremely meaningful and a very touching number.   The song is about a past relationship that is definitely over but never forgotten.
By the end of the album, I realize that this musician/artist never lets up on the pedal as she accelerates from beginning to end.   Through the words, sounds and emotions of Susan Elizabeth, you will get a chance to experience this talented individual first-hand.   I was highly impressed with the artistry & musicianship shown here and I feel that Susan has a bright future ahead of her.   Real wine and cigarettes may leave a nasty taste in your mouth and maybe even give off an unpleasant aroma.   However, this version of Wine and Cigarettes will leave a more than satisfying taste in your mouth while giving off an exuberantly fresh aroma.   For more on this talented musician/singer/songwriter who is completely in tune with herself & her audience, SKOPE out www.susanelizabethsongs.com & myspace.com/suselizabethmusic.  
By Jimmy Rae (jrae@skopemag.com)
[Rating: 5/5]