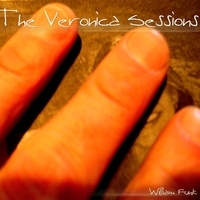 With a friggin' cool name like William Funk and a hot new record, what more could you want?   According to William Funk, there is a lot more to life than a rad name and a bunch of new songs.   There is a much bigger purpose & meaning behind the making of The Veronica Sessions.   The album was actually inspired by an autistic boy named Alexander.   This young boy even has his own song on the new record titled "Alexander". Funk has decided to play the role of the honorable & commendable artist by donating all of his album sales to an organization called Generation Rescue (www.GenerationRescue.org).   GR is a "program for financially disadvantaged children who have been diagnosed with an Autism Spectrum Disorder but have not received any biomedical treatment." Already I am impressed by William Funk's noble act even before listening to The Veronica Sessions.
Obviously Alexander and the fight against autism was the main driving force behind the making of this record. However, there are other important factors at play here such as this Veronica person. William goes out of his way to name this entire project after her and even devotes two songs to her, "San Juan Winds (Veronica's Song-1)" & "If I Can Feel Inside (Veronica's Song-2)". This Veronica must be some special lady! Both of these songs exhibit a peaceful and gripping tone as Funk performs them with immense passion.  
It is worth noting that this singer/songwriter wrote the lyrics & music for all 10 songs while also throwing in vocals & guitar.   Seven tracks were written in San Juan, Puerto Rico whereas three tracks were written in Funk's homeland of Canada. The CD wouldn't be complete without the expertise of Joe Barrucco from TimeLine Audio (www.timelineaudio.com).   Barrucco had the role of Sound Supervisor/Music Producer for The Veronica Sessions, which is why you hear such a rich & plush sound come pouring out of this disc.   Joe Barrucco has even been nominated in the past for three Juno awards (Canadian Grammy).
The CD offers up a cool mix of rock & soulful singing to go along with Latin/World beats. The beats were just ridiculous to me due to the incredibly catchy rhythms.   An infectious style and sound to the beat of fun & zippy, pop/rock tunes is what you hear. Funk brings you a lively rock mode & good times but delivered in the most sincere fashion.
One element that really blew me away here was how William Funk played with the sound speed.   Going from fast-to-slow & slow-to-fast was a regular occurrence on this record. With such smooth transitions, William was able to successfully change the pace at the drop of a hat. This speed up, slow down flow was a very effective and extremely efficient tactic for Mr. Funk.
And to think over 10 years ago, William Funk had absolutely no inspiration to write music of his own. Well, years later now and William has an overload of inspiration as well as one fine piece of work.   I guess you can say that Veronica Sessions is 10 years in the making and I applaud you for this one.   For more on William Funk and his new release, SKOPE out www.myspace.com/williamfunkmusic  and http://www.cdbaby.com/cd/williamfunk3.  
By Jimmy Rae
[Rating: 4/5]