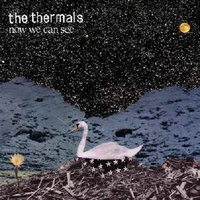 The last thing the world needs is another generic power-punk three piece. But the first thing that the world needs is more of Portland's The Thermals. Quite simply, this is power-punk with a potent message. There is nothing generic about these three; Now We Can See, their latest screams with youthful urgency. Not bad for a band that's four albums into things.
It's not like Now We Can See is loaded with hooks; it's loaded with one constant, vital drive. And that drive sustains itself with bombastic, old-school guitar solos that dare listeners not to smile and ask, "Who is this?" No, it's not another spawn of The Ramones, playing music that dissolves into a sea of other bands who hop on and off of the Warped Tour stage so callously. Now We Can See brings forth a bold message; life is for the taking, so live loud while you can.
From the opening riot of "When I Died," the Thermals charm becomes immediately apparent. It's a vigorous call to arms, not unlike its opposite parable, "When We Were Alive." Lead singer Hutch Harris sings in an oddly comfortable nasal tone, but that's probably the point. Youth in and of itself may be uncomfortable, but there's a passion that exists which Now We Can See captures so well. It sings loudly about (And begs for) a unity that is much needed in a post-Bush American youth.
Hear Now We Can See and hear a band that's clearly on the rise. Yet hear Now We can See and understand that the future hardly matters, as long as you're doing what you want to, then and now. Live life full, and let The Thermals guide you in their driving sonic accord.
By Joshua Kloke
[Rating: 4/5]