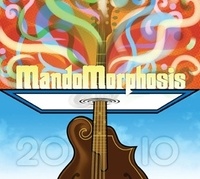 Mando Morphosis is a group made up of seven mandolin players.   Originality at its finest, as this band brings fresh material to the masses. With the exception of one track, this entire record is all instrumental. Mando Morphosis are proud to introduce their new acoustic music at the start of a brand-new decade.
The mandolin is the focal instrument here, but there are many other instruments at play such as: violin, dobro, octave-mandolin, tenor-guitar, guitar, mandola and harp. What this Seattle-based group has here is a new music style for the ages. There are elements of jazz, blues, bluegrass, world, classical and even Spanish-style/Flamenco music. This interesting blend of styles is an absolute delight to hear.   This seven-man-band is listed under the genre of Newgrass, Jamgrass, Bluegrass & acoustic and I couldn't agree more.
2010 includes 16 original compositions and arrangements along with one bonus track. You get a Bluegrass jam session right from the get-go on song two, "Matt's Idea". Next up is "A Minor Squabble", which has a cool, lively sound that is just full of bright zest. "Santa Marena" adds a Latin American twist to the mix to go along with an energetic and excellent arrangement. Song six, "Crime Dog", displays a bluesy feel with uplifting spirit while track seven, "Zone", adds a jazzy vibe. Song eight, "Hamhock's Razor", has that traditional bluegrass sound to it, but spruced up with a little new-age mojo.   "Nocturne Op. 9 No. 2" is nice and subtle while "Mando Morphosis" is a wild display of sound.   Continuing on, "Nero's Fiddle", comes with out-of-the-blue vocals while track 16, "Ed", offers fun and lightly textured playing.   The song "Ghostown" actually has a creepy/dreary/ghostly feel to it fittingly enough. You get the sense that everything has gone haywire and that it is all out of whack, which was a real neat effect.
Mando Morphosis have a special treat here for all people to enjoy. Musical diversity at its finest as these seven artists prove to be a creative force to reckon with.   2010 is a joy to listen to because it is refreshingly new music for the ears.   Watch out for this band as they plan a series of concerts in the year ahead. For more on Mando Morphosis and their new release, 2010, SKOPE out www.mandomorphosis.com.
By Jimmy Rae (jrae@skopemag.com)
[Rating: 4.5/5]