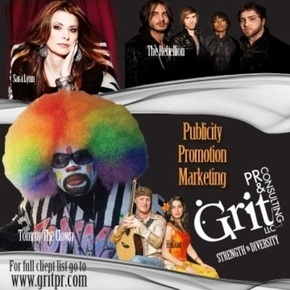 I will be the first to say that social networking is a huge tool for bands & musicians. What other technology has allowed musicians to network & promote globally for nothing more than their time & effort. The only issue that I see is oversaturation. I decided to take this further and interview Laurena Campos, the CEO of Grit PR. Laurena is an industry veteran and deals with PR, promotion, and standing out from the crowd everyday. Join us as we talk to Laurena who offers a fresh & real perspective on the industry in 2010!
Stoli: Where are you talking to us from today and how did you come up with the title, Grit PR?
Laurena M. Campos: I am speaking with you today from my office in Portland, Oregon, though I still consider myself a die-hard New Yorker!
Stoli: How did you decide that you wanted to venture into the PR side of the music business?
Laurena M. Campos: I have always had a passion for music and for writing. The two came together initially via journalism, as I wrote stories and music reviews for various magazines in Los Angeles.
Stoli: Did you need any special schooling or apprenticeship to get started?
Laurena M. Campos: No, I taught myself by observing others and developing a good ear for music and how to express what I heard and felt through words on a piece of paper. I tried a couple of internships with small record labels, but I did not find that these experiences gave me what I needed to learn and succeed. I did serve as a publicist with a firm in LA for about 2 years and I learned a great deal from the more experienced staff members.
Stoli: You are located in Portland, OR. Why did you choose that vibrant city as opposed to NY or LA?
Laurena M. Campos: I was born in NY, lived in LA for 7 years and then moved to Portland because I wanted a break from the lifestyles of both cities at the time. Truly, my dream is to live in Mexico!
Stoli: You offer such a wide array of services. How do you decide what a band needs when you first start working with them?
Laurena M. Campos: I usually start with a conversation, as communication between artist(s) and anyone representing them in the industry has to really "click." Then I usually send them a questionnaire to determine if our company can provide what they are looking for, or rather need, at the time of contact.
Stoli: You have clients in music, visual arts, fashion, amongst other things. Does PR vary depending on what medium the client is involved in?
Laurena M. Campos: Not really. I intentionally set up my business to be diverse. The main reason for this is so that I can limit the quantity of artists I work with per genre as I do not like to compete against myself for coverage. PR is all about having a good story, expressing it clearly and succinctly and developing relationships with writers and others in the meda.
Stoli: When a band seeks PR. What are some things that they should look for to make sure they are getting their money's worth?
Laurena M. Campos: First, as I mentioned, you want to have great communication with your publicist. It is very much like a marriage— you must trust each other and know that your publicist has your best interest at heart. I also believe that agreements that allow the relationship to part at any time if it isn't working is very important. You don't want to be tied to a person or company you do not feel is working well for or with you.
Stoli: How has the digital revolution changed the way PR is for bands now than 10 years ago?
Laurena M. Campos: It has definitely caused the demise of many newspapers and magazines. However, it has also created an endless resource of information and possibilities for artists. I still think that both traditional PR and Cyber PR are valid; they serve different purposes and provide different results.
Stoli: As an entrepreneur what is the biggest challenges that you face day to day and how do you face them head on?
Laurena M. Campos: Because I do not believe in binding contracts, I truly don't know how many clients I will have on a day to day basis. However, I also know that offering this business model has enabled me to build close relationships and trust with my clients, so I would not change a thing.
Stoli: Sites like Myspace & Purevolume are great but so saturated with musicians and artists. How can a band stand out and not get lost in the crowd?
Laurena M. Campos: Use everything available to you! Don't invest too much time into any one thing- be sure you are covering all of your bases- and that means both online and via traditional media.
Stoli: What is one of your proudest accomplishments since forming Grit PR?
Laurena M. Campos: Working with Tommy the Clown, the creator of the dance form Krump. Through working with Tommy I can indirectly contribute something positive to at-risk youth and help to offer them an alternative to drugs, gangs and violence in our streets.
Stoli: Is there a selection process or do you work with any bands that are looking for PR representation?
Laurena M. Campos: I would not call it a selection process really, but more of a process of determining if we are right for each other. I like to see if our working styles fit and of course if I have room on my roster for an artist in that particular genre.
Stoli: In a PR disaster like the Tiger Woods scandal. If you were his PR how would you spin that?
Laurena M. Campos: I am laughing, I must tell you! Basically I would tell him to keep his mouth shut for a while and his thumbs on the golf club and not the texting keys!
Stoli: What is coming up for 2010 and how can interested readers get in touch with you?
Laurena M. Campos: We have an amazingly diverse roster of clients for 2010. It is really exciting. From Rap to Latin Alternative, Dance to Fashion, there is always something new going on. And you would be amazed at the synergy of it all. Often times we get a story in a publication because of one type of client and it leads to other things down the road. I am very proud of Grit's integrity, our passion and love for the arts, and the unorthodox but wonderful business model I have created. I am always open to hearing from new artists and I do my best to guide them in the right direction– even if that is not with my company. I can be reached at gritpr@gmail.com.
Lastly, I want to truly thank Skope for being such a great resource for so many artists and a true partner to companies such as my own. I believe that Skope has also created a unique and successful business model and I truly admire your work. It is virtually impossible to stand out on the Internet, but Skope does that with creativity, honesty and compelling content. Thank you.