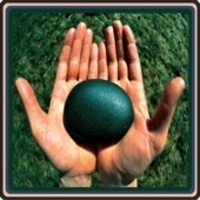 Right away, the environmentally safe CD packaging blends right in with the earth-friendly overall sound.   Not to mention, this new record is a powerful testament to the local talents that thrive in the Twin Cities music scene.   Mrozinski and "The Feelin Orchestra" attempt to make Minnesota the new music capital.   With the help of contributing players from over forty local bands, Nicholas aka "The Feelin" and this talented cast have created something special here.
Power in numbers is highly evident on this new project, which gives off an overwhelming sense of vibrancy.   The title makes complete sense because in the end, Together We Are Stronger.   Not just as a complete group of musicians playing together, but also as a group of individuals working together.   This carries into one of the overlying themes of the record, which is living peacefully as one in this great big world.
Talking about Mrozinski's individual talents now, it's worth noting that this singer/songwriter is responsible for the writing of all 14 songs except the last tune "Della Jean" .   Right away from the opening track, "Window of Sage", you hear a very unique style & tone to Nicholas' voice.   The CD rolls on into an earthy/folksy-rock sensation on "Easter and Keeko".   Track three, "The Same", comes with a very different-sounding mode that is not even close to the same-old, same-old.   Next up is "What's This?" that offers up an extremely original singing style to go along with funky moments and a high-spirited group effect.   You get a dose of cool electronic effects 'n' beats on "Predictable" & "And You Will".   Track six, "Return", has a nice-groovin' guitar part to go along with even groovier psychedelic glimpses at the end.   One number really stands out to me and that is "Strong" because it is just that.   This track has so much to offer from hip-hop moments to gospel-like influences and Mrozinski & company bring it all together nicely with lotsa soul baby.   The record ends with wonderful acoustic guitar playing and a nice overall touch due to the short-but-sweet acoustic set.  
If you want to download "Easter and Keeko" for free:
In the end, you will be diggin' Nicholas Mrozinski's distinct musical qualities as an authentic artist of this millennium.   You will experience well-put together arrangements and a sound that will keep you intrigued.   Together We're Stronger is an acquired taste of audio on display, no doubt, but one that will be appreciated by many.   For more on Nicholas Mrozinski (The Feelin) and his new release, Together We're Stronger, SKOPE out www.thefeelin.com.  
By Jimmy Rae (jrae@skopemag.com)
[Rating: 4/5]