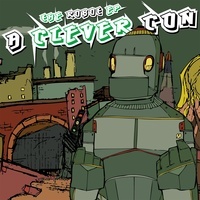 Have you ever listened to a band that was part punk, part reggae, and part metal? Let me introduce you to A Clever Con, New Jersey's latest in innovative original music.   With Mike Dietz (Lead Vocals and Guitar), Ryan Marsa (Lead Guitar and Vocals), Bobby Certo (Bass), and TJ "Smash" Horner (Drums), you get a band full of energy, enthusiasm, and kick-ass music.
"Kill me poetically/I like to live my life vicariously/Through those with keen vision and a knack for destruction."   Perhaps the most potent lyrics I've heard to start an album.   A Clever Con begins their CD, "The Robot EP", with "Work Related Stress", a song whose catchy lyrics are only preceded by a guitar intro resonating through what sounds like an old record player. Great harmonies and instrumental sections leave you wanting much more….good thing it's the first song!
"60 Amp Disconnect" features an intro made for hard-rock: hard and heavy guitars, pinch harmonics, and lots of energy.   The verses were the highlight for me, containing a great vibe through great lyrics and well-placed harmony.   Lead guitar in the 2nd verse helps the song build as it goes.
"Robots and Mannequins" hits right away with the works: drums, bass, guitar, vocals.   Probably the weakest song on the album, it almost feels as if it were meant for a different CD altogether.   Not a bad song, but the rest of the album is far superior.
"Heroin(e)" provided a great change of pace, starting with clean guitar and some light reverb.   The song transitions very well from section to section and although it was the second-longest track, there was never a moment of "This isn't over yet?!".   Female backing vocals were also a great touch to a great ballad. Lyrically, this song was above the rest.
My favorite track, "Able Danger", has a clear political message from start to finish, with many references made to 9/11 conspiracy theories.   This song had the best intro, brilliant guitar playing by Marsa, a strong and hard breakdown, and even a few call-and-response lines reminiscent of old-school punk music.   If you download one track from this EP, pick this one.
On a softer note, "The Robot Ep" ended with an acoustic track, "Little Miss Bombshell".   My only wish is that one day this song is recorded electric and distortion-driven, but it is a great acoustic piece beginning to end.   The last half of the track featured only percussion instruments and no vocals and will definitely catch you off guard.   Was it totally out of place? Yes.   But it sure was entertaining as hell.
The guitar work and fantastic harmonies lead the way on this EP, and we all should eagerly await A Clever Con's next release.
Review By: Matt Simon
[Skope Rating: 4/5]