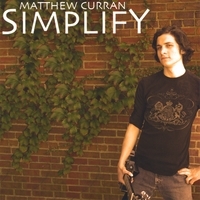 Matthew Curran and his trio (Matt Jurasek on bass & Kevin Conray on drums) introduce a powerful yet simplified rock 'n' roll sound.   Curran & company are blending together elements of rock, blues and alternative to offer you a creatively fresh recording.   With catchy guitar rhythms & vibrant hooks, Simplify sums it all up with track two, "The Vibe".   This group has definitely got an all-around-cool vibe that oozes with rock-it-time grooves.   Infectious style to go along with a stellar songwriting ability & excellent musicianship makes for one stand-out album!
I can't go any further without mentioning the incredible talents of Matthew Curran.   At the age of only 11, this singer/songwriter/guitarist was the youngest person ever sponsored by Gibson.   Matthew went on to also endorse with Roman Guitars, Transperformance and Marshall Amps.   At the ripe young age of 12, Curran impressively opened up for such big acts as Deep Purple & The Scorpions.   This musical virtuoso even had the privilege of playing with blues & rock legends, Dave Mason, Jeff Healey (R.I.P.) and Les Paul (R.I.P.).   Curran has gone on to headline shows in NYC, L.A., Vegas & abroad, has performed on radio (Manhattan's Q104.3 Classic Rock), Metro TV & the WB and not to mention has his own documentary film thanks to Telling Image Films.   To think, it all started at 10 years old when this kid played "Stairway To Heaven" note for note on his dad's guitar.   In the end, Matthew Curran and Simplify are nothing short of simply amazing.
Crisp artistry & phenomenal guitar playing are highly evident on this new project, but Curran's singing/songwriting skills are equally as impressive.   The voice has a rocky alternative edge to it while the words are brilliantly displayed.   One such line comes from the opening title track where Matthew simply states "Wasting my time looking for things, but they're not my type".   The overlaying message here is not to worry so much about material possessions, but rather to worry about one another.   Humanized Tendencies vs. Materialistic Temptations is a theme that runs heavy throughout this record.   Matthew's principles and values come shining through here as Mr. Matthew Curran dares us to be civil with one another.   The beauty of it all is that it's not difficult to focus on what's truly important in this life.   On the contrary, Curran stresses to just keep it all simple.   Hopeful words & Insightful lyrics for a Jaded World & Cynical Consumer = Simplified Measures.   The purpose of this album is heard loud & clear as Curran adds a bit of positive reinforcement to ALL of mankind.  
Matthew Curran and his bandmates are bringing a vivacious flow of guitar-driven rock/blues/alt-rock.   Curran has come up with a formula that works and a technique that flourishes on this disc.   Matthew Curran will definitely blow you away as you experience Simplify for yourself.   For more on Matthew Curran and his latest release, Simplify, SKOPE out www.matthewcurran.com.  
By Jimmy Rae (jrae@skopemag.com)
[Rating: 5/5]