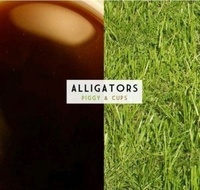 Recently were seen some impressive music come out of the Pacific Northwest. Bands like Loch Lomond, Kane Hodder, The Dandy Warhol's, and of course Death Cab for Cutie just to name a few. This new brand of music flows and ebbs with rich liquidity, exotic musical textures, and a lot of positive creative energy. Enter 5 piece know simply as the "Alligators" from of all places Bremerton, WA. Vocalist Joshua Trembley leads the way with Bradley Pooler, Tyler Lewis, Daniel Lewis and Kristian Arper, also active in other local bands such as Time To Fly, Map of June and Arper all come together to release Piggy & Cups in early 2009.  
Logging in at just over 48 minutes, The CD kicks off with "Where does it Hide" a smooth intro piece with Gin Blossomy-type guitars, addictive vocal melodies, and dynamic musical sound scapes that come at you from every which direction. Track 2 "Mama Stop" kicks it up a few notches, with driving rhythms, well placed harmonies, and clever track-merging into track 3 "Original Fear." This CD makes a great first impression! Right from the start you will notice rich musical textures overflowing everywhere, full of warmth, variety, and melodic structure. The songs themselves are addictive, and upbeat, complete with positive, carefree subject matter that cannot be faked. Track 4 "If you want to" probably my favorite track on the whole CD has an amazing chorus that will no doubt lift your spirits. The musicianship of this 5 piece is solid. The players themselves write, and play there parts extremely well. The vocal harmonies are brilliantly placed and well crafted. This band reminds me a lot of vintage Yes, or even the Beach Boys – amazing creativity against a grand mosaic of melodic vocals. In-fact a lot of these songs can carry their weight vocally, without any instrumentation. From upbeat songs like "Be the only one", "If you want to", to darker pieces like "The Conqueror" all deliver a solid groove, and flow extremely well track by track. The keyboard synthesizer accents are well placed and add even more variety. There are so many creative time changes I gave up trying to predict what was around the next corner. Te music is very unpredictable, and will keep you guessing, so I recommend you just sit back and let the music take you where it takes you. When the ride is over you will feel exhilarated, wanting to come back for another go around This CD has everything from rock, R&B, to Rap, and even some tribal rhythms. It's pretty much amazing!
Piggy & Cups is a professional production from top to bottom, and has no weaknesses that I can see under my microscope. The music is clean, goes down smooth, and is a lot of fun to listen to. It strength – it's amazing musical variety, with lots of sonic layering and brilliant vocal reinforcement. My hats off to the entire production team, Recorded in Jason McGerr's (Death Cab for Cutie) Two Stick Audio in Seattle – mixed and mastered to perfection.   Overall Piggy & Cups is a solid statement from the Alligators. This release clearly proves they deserve a spot in the deep end of the pond with some of the aforementioned bands above.
www.myspace.com/alligatorpocketbook
By: Cyrus Rhodes