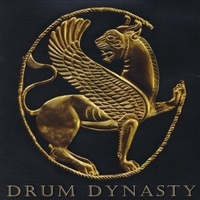 One can envision the drums as a heartbeat, pumping blood into the rest of a song. That's what can best describe how Drum Dynasty works and is truly expressed in their two-disc debut release, "Drum Dynasty."
   
Drum Dynasty consists of members Bruce Burgess on drums, Arturo Rodriguez and Marco Zonka on percussionist tandems, and film composer Kevin Christensen, who also handles the musical score. According to Burgess, who co-wrote all songs with Christensen, "drumming by nature is a very primal expression, and it's a language mankind has been speaking for centuries."  
 
Very true.
 
In disc one, the Dynasty offers an eclectic blend of Middle Eastern rhythms and sounds from India. Entitled "Mystic Sunrise," this disc gives a sense of mystery and takes you on a journey to the mountains of Tibet, the pyramids of Egypt and beyond. Several things came to mind when listening to this disc. In particular, a handful of the tracks, such as "Dance of the 7 Veils," "Masalama," and "Karma" were songs that could easily be placed as film scores. A few movies came to mind that would have greatly benefited by Drum Dynasty's sound, such as "The Golden Child" (starring Eddie Murphy, 1986), "Babel" (Brad Pitt and Cate Blanchett, 2006), and "Inside Man" (Denzel Washington and Clive Owen, 2006).
 
Dynasty's disc two, "Dark Continent," is just as much an internationally-driven enjoyment as disc one. Taking a step into Africa, songs such as "Khodomodumo," "Katavi", and quick-paced "Hemiola" set the tone for both upbeat and smooth that bring you thick into the Serengeti and beyond.
 
More than just drums, this band is definitely a dynasty of delight.
For more on Drum Dynasty, visit www.drumdynasty.com.
Author: Erika Y. Gradecki
[Rating: 5/5]